Nestled along the ruggedly beautiful coastline of California, the Monterey Peninsula is a magical place to spend the holiday season. With its stunning natural landscapes, charming coastal towns, and rich cultural heritage, this region offers a unique blend of festive celebrations and breathtaking scenery. Whether you're a local looking for new holiday traditions or a visitor seeking the perfect destination for a memorable winter getaway, the Monterey Peninsula has something special in store for you. In this blog, we'll explore the top 10 holiday events that capture the essence of this enchanting coastal paradise.
Pacific Grove Christmas Tree Lighting Ceremony
Kick off the holiday season in Pacific Grove with their annual Christmas Tree Lighting Ceremony. This beloved community event gathers locals and visitors alike at Jewell Park, where a towering pine tree is adorned with thousands of twinkling lights. The ceremony features carolers, hot cocoa, and a visit from Santa Claus himself, making it a heartwarming experience for the whole family. The magical moment when the tree is illuminated will surely fill you with the holiday spirit.
Christmas in the Adobes - Monterey State Historic Park
Step back in time and experience the holiday traditions of early California at Christmas in the Adobes. Taking place within Monterey's State Historic Park, this event invites you to tour historic adobe buildings decked out in period-appropriate holiday decor. Costumed volunteers reenact scenes from the past, and each adobe offers unique activities, such as traditional music, storytelling, and festive refreshments. It's a delightful way to learn about the region's history while celebrating the season.
Cannery Row Holiday Tree Lighting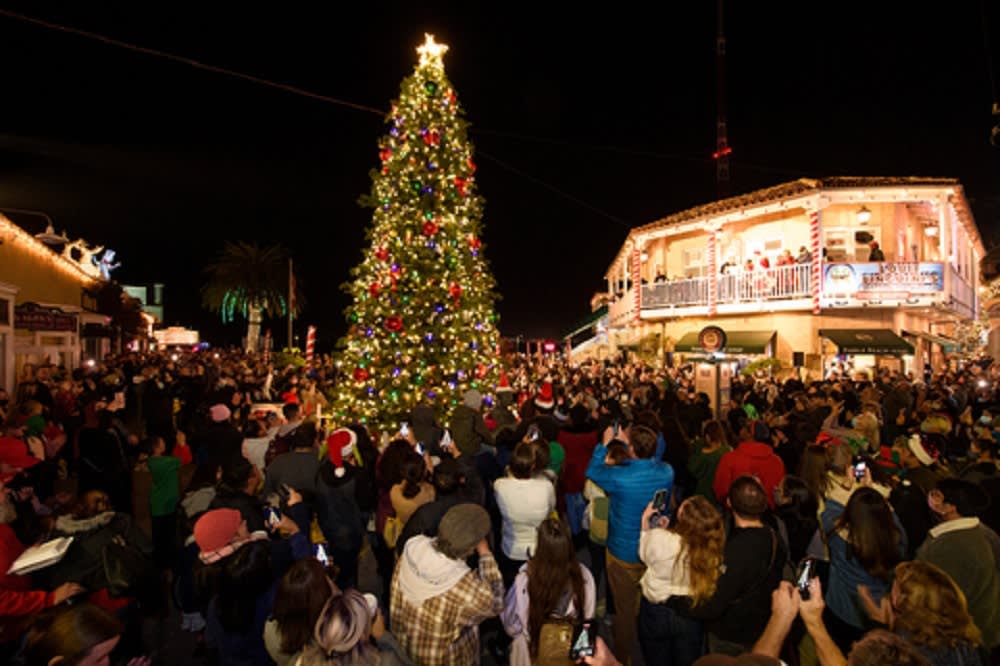 Credit: whatsupmonterey.com
Cannery Row, known for its scenic waterfront views and vibrant atmosphere, hosts an annual tree lighting event that transforms this iconic area into a winter wonderland. The event includes live entertainment, holiday treats, and a special appearance by Santa Claus. As the towering Christmas tree on Cannery Row is illuminated against the backdrop of the Pacific Ocean, it creates a picturesque scene perfect for capturing holiday memories.
Christmas at the Inns - Pacific Grove
Pacific Grove's Christmas at the Inns is a cherished tradition where a select group of charming bed and breakfast inns open their doors to the public during the holiday season. Visitors can stroll from one inn to another, each uniquely decorated for Christmas, and enjoy delightful treats and live entertainment. This event provides an intimate glimpse into Pacific Grove's Victorian-era charm and a cozy way to celebrate the holidays.
Ice Skating by the Bay
For a holiday experience that's both classic and uniquely Californian, head to the Ice Skating by the Bay rink in downtown Monterey. This outdoor ice skating rink offers panoramic views of Monterey Bay and is adorned with festive decorations. Whether you're a seasoned skater or a novice, gliding on the ice surrounded by the crisp, coastal air and the sound of ocean waves is a memorable way to celebrate the season.
Christmas in the Park - Carmel-by-the-Sea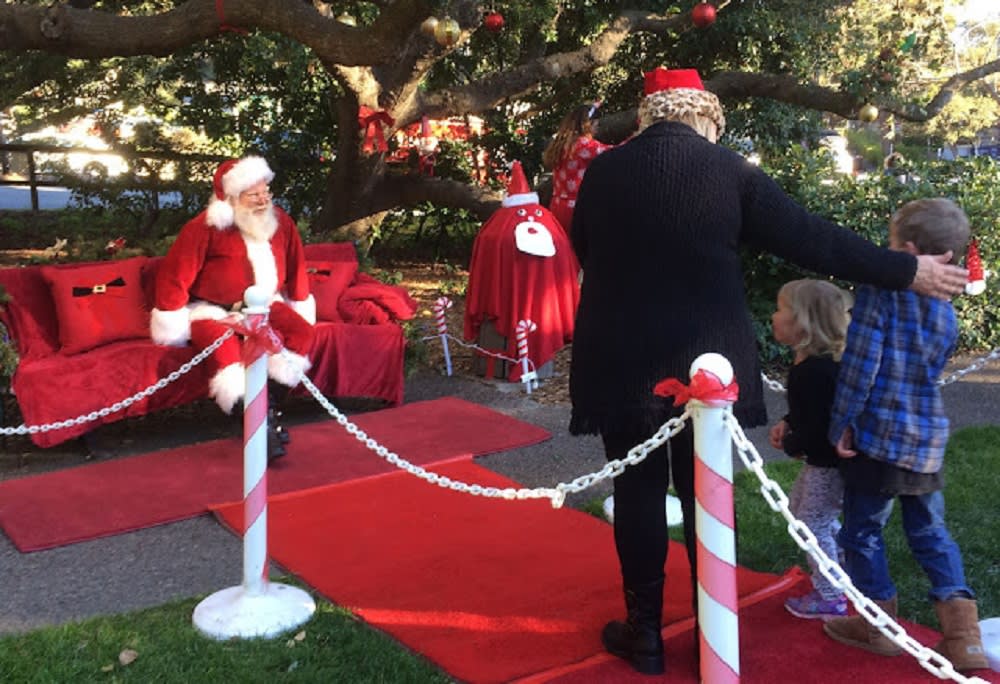 Carmel-by-the-Sea is renowned for its enchanting European-style village, and during the holiday season, it becomes even more magical with Christmas in the Park. Devendorf Park transforms into a winter wonderland, complete with a sparkling Christmas tree, holiday lights, and festive decorations. This charming event features carolers, live entertainment, and the opportunity to meet Santa Claus. It's a picturesque setting for holiday shopping, dining, and creating lasting memories.
Lighted Boat Parade - Monterey Harbor
Each December, Monterey's waterfront comes alive with the annual Lighted Boat Parade in Monterey Harbor. Colorfully decorated boats adorned with thousands of twinkling lights parade through the harbor while onlookers enjoy the spectacle from Cannery Row and Fisherman's Wharf. The combination of the glittering boats and the reflection of lights on the water creates a truly mesmerizing holiday display.
First Night Monterey
Welcome the New Year with a creative and family-friendly celebration at First Night Monterey. This event features an array of performances, including live music, dance, theater, and visual arts, taking place at various venues throughout downtown Monterey. As the clock strikes midnight, a brilliant fireworks display lights up the night sky over Monterey Bay, marking the beginning of a new year filled with hope and promise.
Holiday Tree Lighting Ceremony - Pebble Beach
Pebble Beach, renowned for its world-class golf courses and stunning coastline, hosts a Holiday Tree Lighting Ceremony combining elegance and holiday cheer. Held at The Inn at Spanish Bay, this event includes a beautifully decorated tree and a captivating bagpiper performance. Guests can enjoy hot cocoa, cookies, and a visit from Santa Claus while taking in the breathtaking views of the Pacific Ocean.
Holiday Winemaker's Dinners
The Monterey Peninsula is also known for its exceptional wineries and vineyards; during the holiday season, many host special winemaker's dinners. These intimate events offer the opportunity to savor delectable wines paired with gourmet cuisine prepared by talented chefs. It's a chance to indulge in the region's culinary delights while toasting to the joys of the season.
Find Carmel-by-the-Sea real estate just in time for the holidays
The Monterey Peninsula offers a captivating blend of coastal beauty and festive holiday traditions, making it an ideal destination for celebrating the season. Whether you're drawn to the historic charm of Pacific Grove, the enchanting streets of Carmel-by-the-Sea, or the waterfront allure of Monterey, there's something for everyone to enjoy during the holidays. From tree lighting ceremonies to ice skating by the bay and winemaker's dinners, these top 10 holiday events on the Monterey Peninsula promise to create cherished memories that will warm your heart for years to come. Embrace the holiday spirit, and make this year's celebration truly special by immersing yourself in the magic of this picturesque coastal paradise.


If you're looking to buy or sell a home, there's no better agency in the area than
Tim Allen Properties
. Tim is rated as the number one agent in Pebble Beach and Carmel-by-the-Sea, and as a born and raised local, he intimately understands the market. Tim always puts his clients first and has stellar reviews to prove it. When you're ready to work with a realtor to find the Monterey Peninsula home of your dreams,
Tim is here to help
.