Carmel-by-the-Sea is a charming beach town situated on the Monterey Peninsula and is best known for its natural scenery and rich artistic culture. This quiet community is home to a broad range of beaches and is a fantastic point of interest for visitors and inhabitants alike. There are a plethora of places to catch a scenic view along this remarkable coast.
Carmel Beach
Carmel Beach is the premier spot to revel in the beauty that is Carmel-by-the-Sea. This famous gem boasts crystal blue water and makes for excellent surf. The water is pretty chilly, so bring your wetsuit to ride the bodacious waves for hours on end. The Scenic Bluff Path is a paved hiking trail with eight access points to the beach below. The trail weaves through Monterey cypress trees and lush gardens, offering a beautiful walk along the coastline from Carmel Beach to Carmel River Beach with views to match. Bring your canine companion with you for a stroll along the path, lounge on the white sand, and soak up the incredible scenery at this iconic location.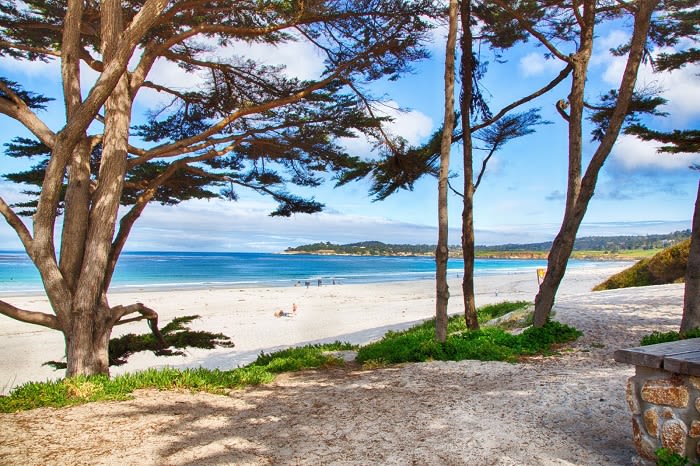 Carmel River State Beach
Carmel River State Beach is a dog-friendly beach perfect for sailing, fishing, scuba diving, and snorkeling. This mile-long beach is home to a bird sanctuary with a broad range of songbirds and waterfowl. Exhibits and programs are available to people of all ages. Though this location is not best for swimming, it's open until one hour after sunset. Carmel River State Beach is ideal for a relaxing day of wildlife viewing, sunbathing, and catching a sublime view.



Point Lobos State Natural Reserve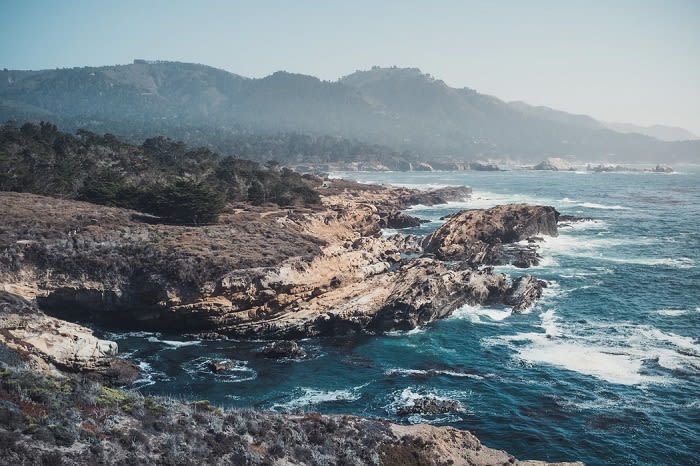 An accumulation of eight different beaches in small caverns along the central coast, Point Lobos State Natural Reserve is an excellent location for exploring the oceanic gifts between Big Sur Coast and Monterey Bay. The beaches are situated in Point Lobos, an area once used for whaling and abalone harvesting. Some of the coves are fit for exploring tide pools, while others are fabulous for viewing seals, sea lions, native birds, and marine life. Whale watching is a popular pastime from December through May. Hiking trails weave throughout the beaches that make up the park. You pay a fee upon entering the park, but it is a small price to pay with a significant return in a magnificent landscape. Bring a picnic and your hiking boots to explore the many beaches that create Point Lobos SNR. Although this reserve is not dog-friendly, it makes for a terrific opportunity for families and nature enthusiasts to delve into the waterfront offerings of Point Lobos.
Granite Point Trail
Granite Point Trail is a challenging hiking path just under one mile in length. The trail moves along the coastline of Whaler's Cove and peaks at Granite Point. Once you've reached the top, you can relish a beautiful view of the great Pacific Ocean.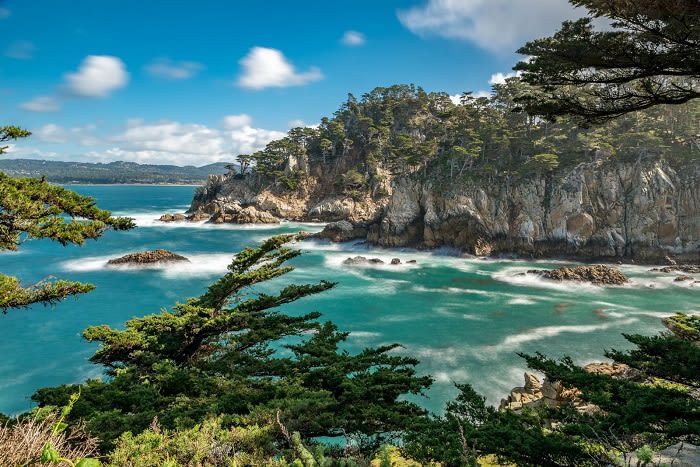 Weston Beach
Weston Beach is known for its tidepools and rocky cove fit for exploring. Several hiking trails run along the cliff behind the beach, leading to other beaches and caverns in the park. Being another favored spot in the park, be sure to rise and shine early to secure your parking spot for the day. Consult the California tide tables so you can enjoy Weston Beach at low tide.
Monastery Beach
Home to the Nuns of Carmel, Monastery Beach is a lovely sandy shore that is unfit for swimming but an exceptional location for enjoying a picnic and the beautiful scenery. This point is also known as San Jose Creek Beach due to the creek that runs behind the beach. Well-seasoned scuba divers often use Monastery Beach for their oceanic explorations.
Gibson Beach
Gibson Beach is accessible via short hiking trails and is a popular destination of Point Lobos SNR. This bank features rocky cliffs and quaint caverns. Get here early on sunny days since locals flock here to enjoy the beautiful sandy beach and scenery. Hike the Bird Island Trail passed China Cove to reach Gibson Beach — you won't regret it.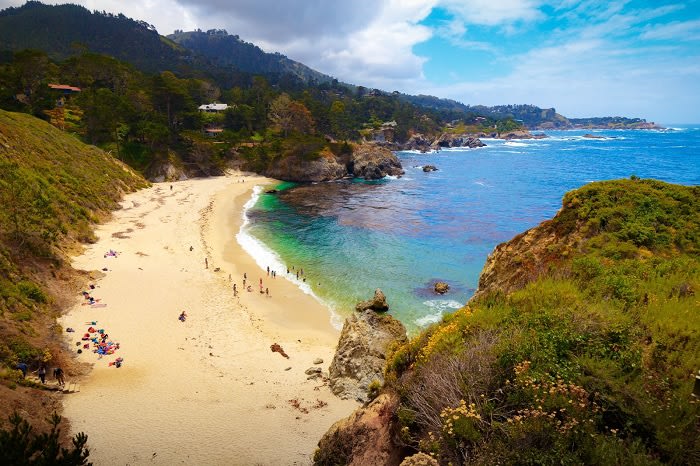 Hidden Beach
Don't let the name fool you. Hidden Beach is viewable in plain sight and is one of the most accessible beaches in Point Lobos SNR. This adorable pebbly beach is accessible via the short South Shore Trail, a great hiking spot opposing the Bird Island Trail. The narrow cove features rocky cliffs on both sides, making for a lovely site for scoping out this quaint seashore.
Ribera Beach
Tucked between Carmel River Beach and Monastery State Beach, this sliver of oceanfront landscape is the perfect place to spend the afternoon by the seashore. Beloved for its well-maintained walking paths, Ribera Beach is ideal for exploring with the family. The views here are immaculate — offering panoramic views of Carmel Bay both north and south.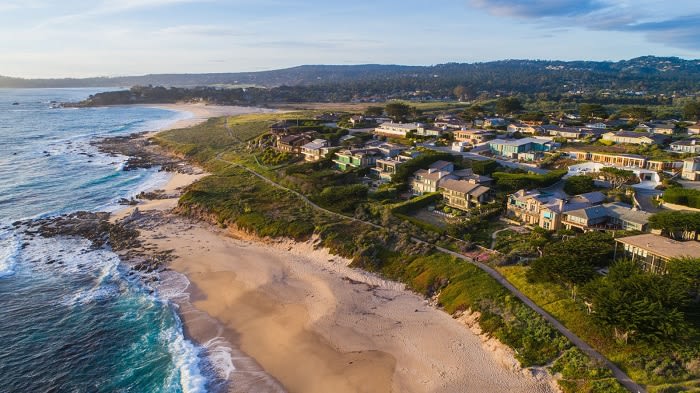 Sea Lion Cove
Hike along Sand Hill Trail of Sea Lion Point Trail to reach Sea Lion Cove, ideal for viewing birds and marine life. Catch a glimpse of whales during migration season and views of the Sea Lion Rocks. This stretch is truly a sight to behold, and parking fills up quickly on sunny days, so arrive early to claim your spot and take in the seascape.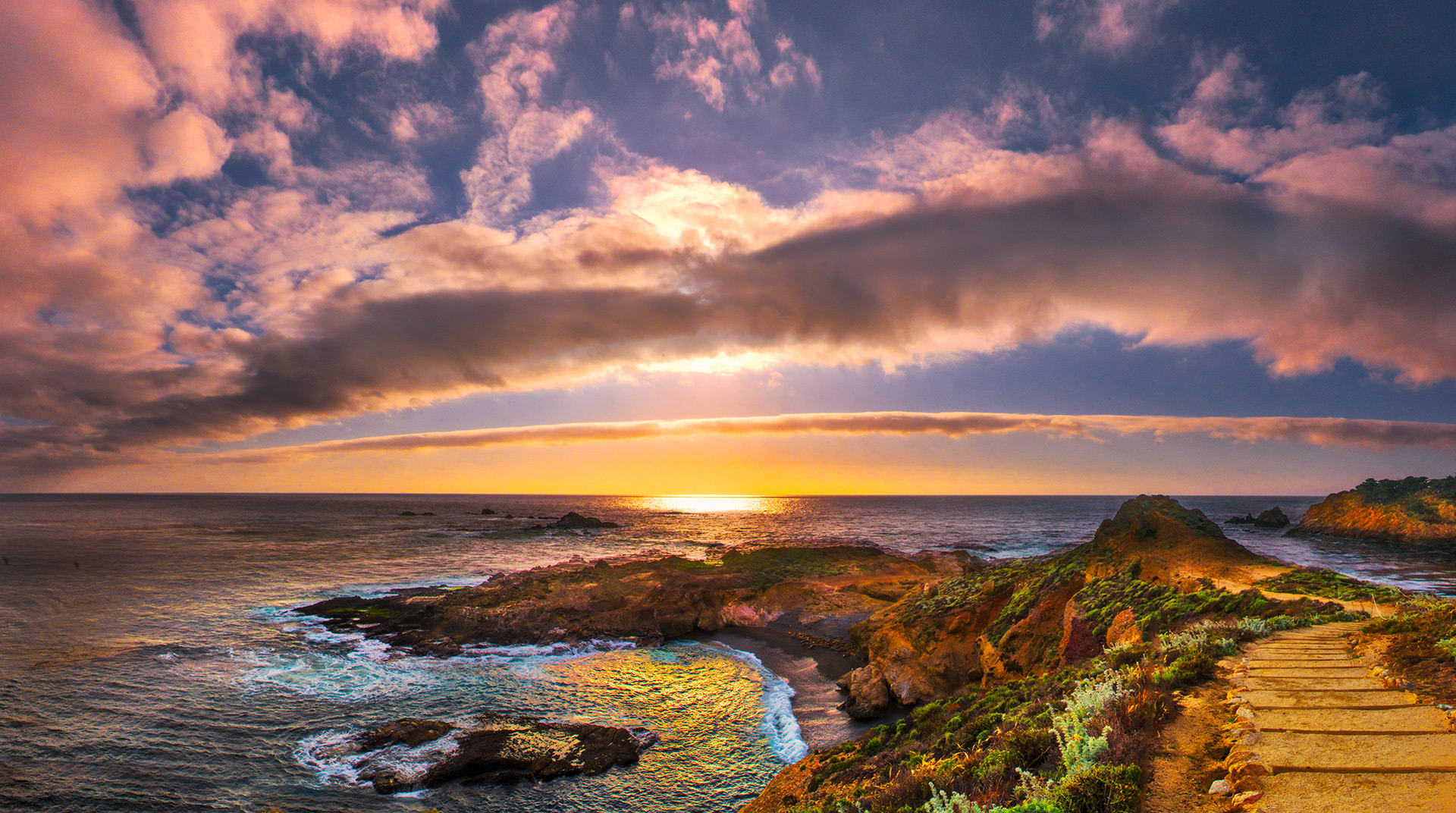 Asilomar State Beach
Along the Monterey Peninsula, Asilomar State Beach is a slice of protected land with an on-site conference grounds, which makes this area perfect for hosting friends and family so that everyone can enjoy the beach's breathtaking views. With coastal trails traversing rocky terrain and sand dunes, Asilomar State Beach is one-of-a-kind and not to be missed.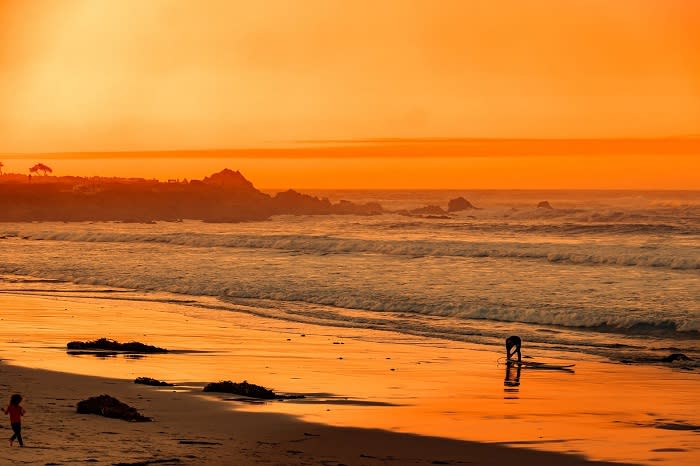 Whaler's Cove
Whaler's Cove is an excellent beach for hiking and scuba diving. There are many coves and reefs to discover underwater and cultural exploits to explore on land. The Cabin was once a meeting spot for anglers and has since been converted to a history museum. The Pit is a small diving area next to Whaler's Cove suitable for beach exploration. Stop by for scenic ocean views, learn a bit of the area's culture, and check out the adjacent Bluefish Cove for a scuba diving session.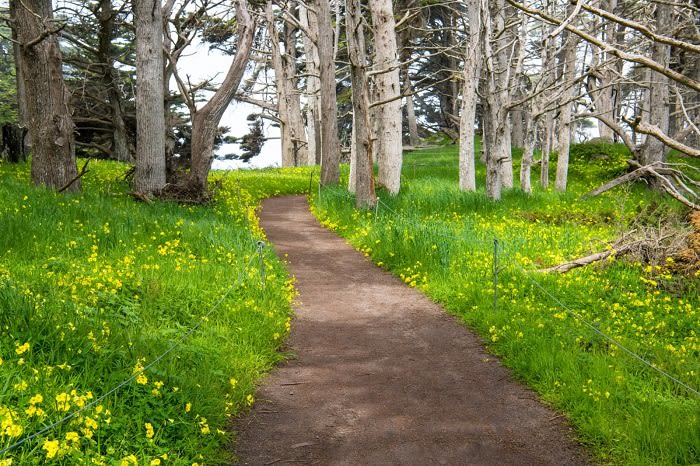 China Cove
A stunning emerald green nook with a narrow sandy beach and rocky walls surrounding, China Cove is an excellent spot for birdwatching and hiking. Viewable from Pelican Point, Bird Island is just offshore. Bird Island Trail leads to the beach, a challenging hike with a worthy endpoint to take a glimpse into the natural beauty of China Cove. When the tide is low, you can explore a small cave and rock arch at the south wall. Reflect on your week as you sit upon the lush green shelf that overlooks this charming beach.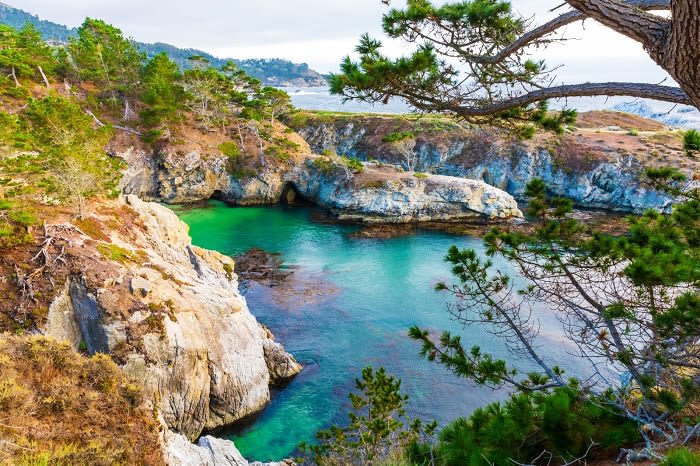 Monterey Bay Aquarium
Though not in Carmel, the nearby Monterey Bay Aquarium is located on a rocky coastline and features various exhibits and touch pools. Visitors get a glimpse into a broad range of ocean habitats, including coastal wetlands, coral reefs, kelp forests, the deep sea, beaches and dunes, and more. Kelp forests are teeming with marine life, including giant sea bass, horn sharks, kelp bass, sea otters, and much more. Moon jellyfish, green turtles, and Yellowfin tuna can be observed in the open waters of the aquarium's largest exhibit, Open Sea. Stop by the Splash Zone exhibit to view the colony of African penguins, a highly entertaining view of these majestic creatures. The Life on the Bay exhibit offers a waterfront deck for spotting wildlife, including sea otters and humpback whales. With so many stunning habitats to explore, animals to see, and an ocean-view deck for taking in the gorgeous vistas, this facility is a must-visit.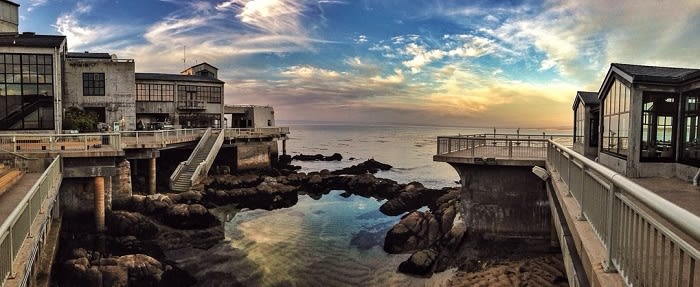 17-Mile Drive
Pebble Beach's 17-Mile Drive offers visitors the chance to capture the magnificent beauty of the California coastline. You will treasure the vast coastal cliffs, beautiful beaches, wooded forests, and top-tier golf courses along the way. This world-class scenic drive features 17 stops along its path. Fanshell Beach Overlook is a stunning stretch where you can spot harbor seals. Cypress Point Overlook is a perfect location for a stellar view and seeing towering beachfront mansions. Crocker Grove is worth a visit to view the grandest and oldest Monterey cypress trees in existence. Stop by the rocky overlook where the world-famous Lone Cypress resides and take in a breathtaking view of the Pacific Ocean. Every stop has its appeal and scenery to relish. This journey is a perfect and picturesque way to explore Carmel's endless gifts.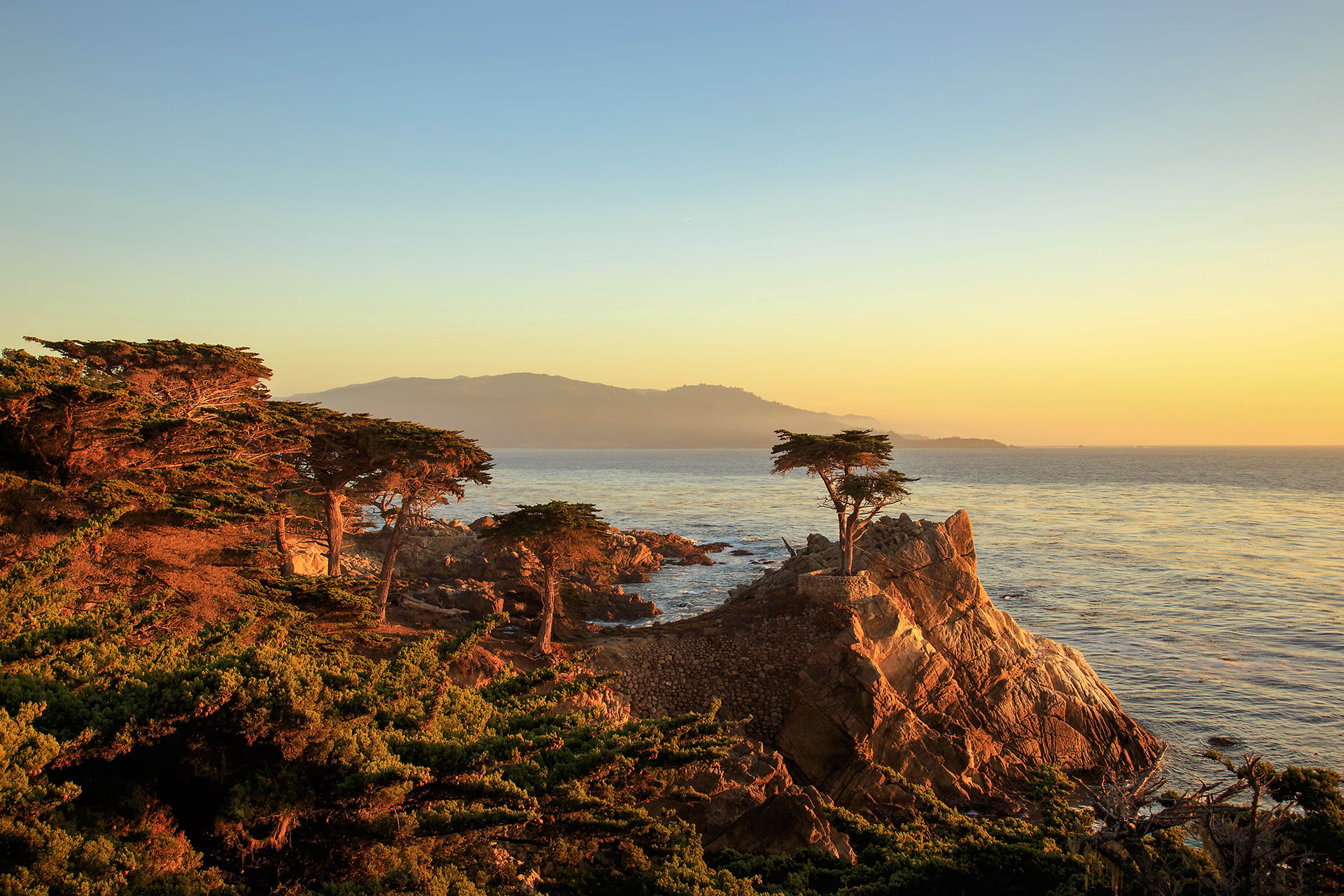 Carmel is an enticing destination to visit. Once you have been captivated by its beauty and allure and are ready to move to the area, contact Tim Allen. Tim was born and raised on the Monterey Peninsula. His passion for real estate and unsurpassed knowledge of Carmel and Pebble Beach will aid in your search to find the luxury property of your dreams in Carmel-by-the-Sea. Tim is consistently ranked in the top 0.01% of real estate agents worldwide, so be sure to seek his help when finding a property in Carmel and the surrounding areas.