In a state like California, it is not easy to stand out among so many sights and landmarks that make California one of the most-visited states in America. However,
Pebble Beach and Carmel
have delighted tourists since their inception, and for a good reason. Officially known as Carmel-by-the-Sea, Carmel is known for its unparalleled natural beauty that has been meticulously preserved by its founders and is fiercely protected by its residents to this day. Pebble Beach is equally as gifted, with pristine natural beauty, and it's where you'll find world-class golf courses, picturesque beaches, and some of the most sought-after luxury real estate in the country. It is no easy feat to sum up these two charming communities in words, so you'll just have to come here and experience all that Pebble Beach and Carmel have to offer for yourself.
The scenic 17-Mile Drive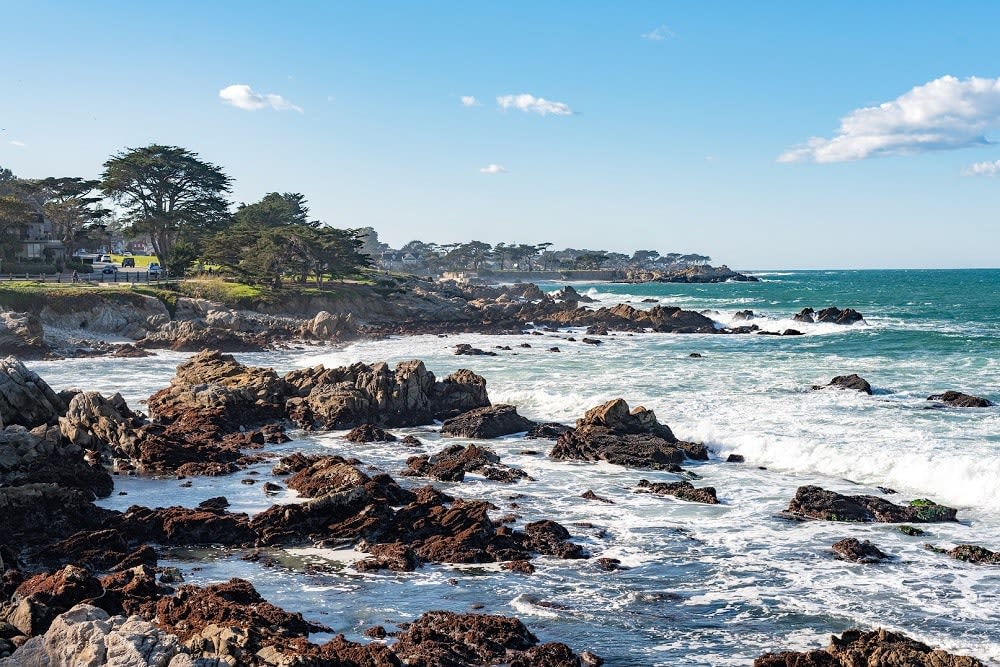 Photo courtesy of Shutterstock
Arguably one of the most scenic drives in the world, the famed
17-Mile Drive
takes sightseers along 17 winding miles of road that offer stunning views of the Pacific coastline. The 17-Mile Drive is not only one of the most popular drives in California, but it also serves as the main road through Pebble Beach, an exclusive and affluent community located between Pacific Grove and Carmel. In order to drive the Pebble Beach portion of 17-Mile Drive, you must pay an entrance fee; however, you'll be reimbursed if you dine within the gated community. Your admission is also complimentary if you are an overnight guest of
The Lodge at Pebble Beach
,
The Inn at Spanish Bay
, or
Casa Palmero
.
There are only four entrances that allow for access to 17-Mile Drive, and it takes a minimum of 20 minutes of driving to reach Carmel from the Pacific Grove gate entrance if you don't make any stops. However, you'd be missing some of this road's most iconic vistas, beaches, sights, and landmarks if you just drive straight through. Be sure to do yourself a favor and give yourself ample time to take it all in. Along the way, you'll pass world-class golf courses, including
Spyglass Hill
,
Cypress Point Club
, and
Pebble Beach Golf Links
, as well as the history-rich Spanish Bay Beach, Bird Rock, and the Ghost Tree, among other must-see spots. No drive along 17-Mile Drive would be complete without paying a visit to the world-famous Lone Cypress. The Lone Cypress sits atop a rocky point and has been the Pebble Beach Resorts' logo since the resort was founded in 1919. There are 17 official stops along 17-Mile Drive, and the road is open to the public from sunrise to sunset.
The beaches of Pebble Beach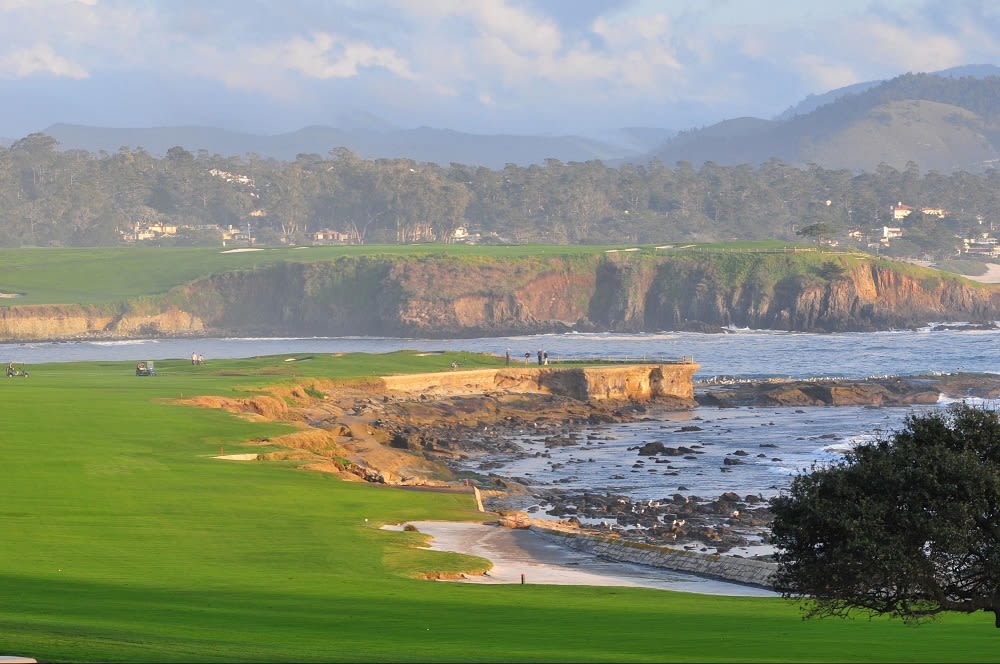 A popular stop along 17-Mile Drive is Cypress Point Lookout. Perfect for catching picture-perfect sunsets, this 10th spot on the 17-Mile drive was first named "La Punta de Cipreses," or Cypress Point, by a missionary in 1774. Here you'll find ample parking and, if you're lucky, seals and sea lions basking on the shore below. You'll also see Cypress trees growing along the coastline, and it's a great vantage point to take in the splendor of one of Pebble Beach's most iconic spots.
Just after Bird Rock is where you'll find Seal Rock Creek Beach, the 8th stop along 17-Mile Drive. This is another chance for you to see colonies of sea lions and harbor seals. And, if you're here during pup season, you will catch glimpses of newly born seals and sea lions. The fine, white sand at Seal Rock Creek Beach is perfect for taking off your shoes and strolling along the shore. In the background, huge, sprawling
multi-million dollar mansions
dot the landscape.
The next stop is Fanshell Beach. This is the 9th stop on 17-Mile Drive and is a rocky, north-facing beach. Although there are small pockets of sand, be mindful and watch your step as you stroll along the shore. Above Fanshell Beach is the Fanshell Overlook and a parking lot. There are no facilities here, but you'll have plenty of opportunities for birdwatching, exploring tidepools, or picnicking. If you want to do a bit of sunbathing, stop by Stillwater Cove Beach, a white sand beach located near the
Beach & Tennis Club
. You can go SCUBA diving here, but there are restrictions, so check with the resort prior to making any plans to dive here.
Pebble Beach Golf Links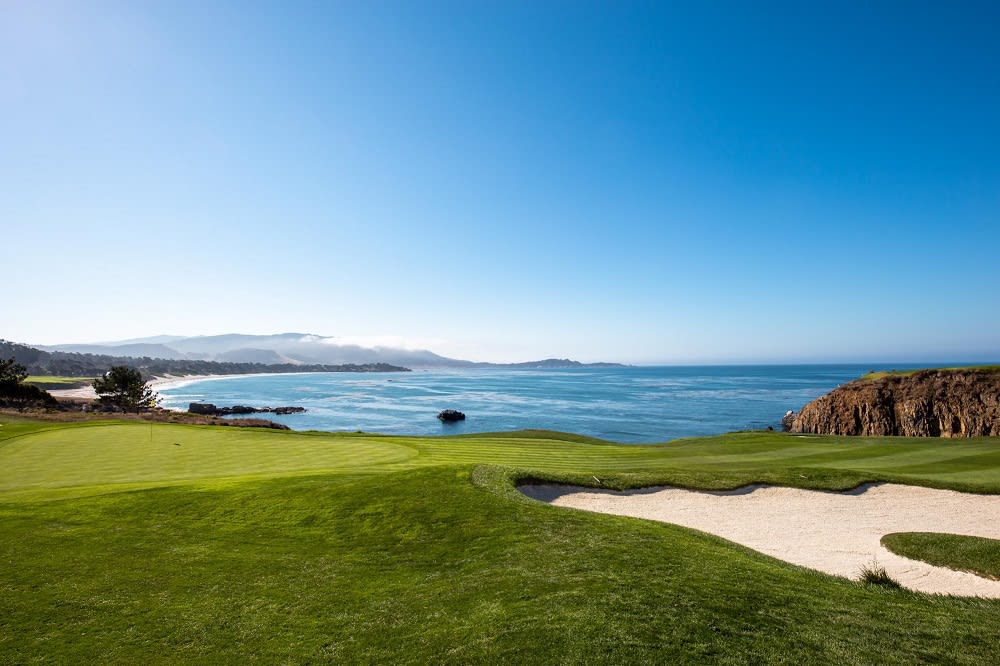 Pebble Beach Golf Links
is widely considered to be one of the most beautiful golf courses out there. With sweeping views of Carmel Bay, Pebble Beach Golf Links has earned the distinction of being the first public golf course selected by
Golf Digest
as the "No. 1 Golf Course in America" in 2001 and has been ranked at the top of all public courses in America since the
Golf Digest's
100 Greatest Public Courses ranking was introduced in 2003. Not only is this golf course beautiful, with nine holes perched atop cliffs towering above the Pacific Ocean, but it's a challenging course as well.

In 1926, the first professional golf tournament hosted at Pebble Beach Golf Links was the Monterey Peninsula Open. Since then, this world-renowned course has played host to countless tournaments, including its first major, the U.S. Amateur, in 1929. Pebble Beach Golf Links has since hosted the U.S. Open six times, beginning in 1972, with the most recent being in 2019, which is more than any other course has hosted the tournament over the past 50 years. Four future U.S. Opens will also be held here in 2027, 2032, 2037, and 2044.
Downtown Carmel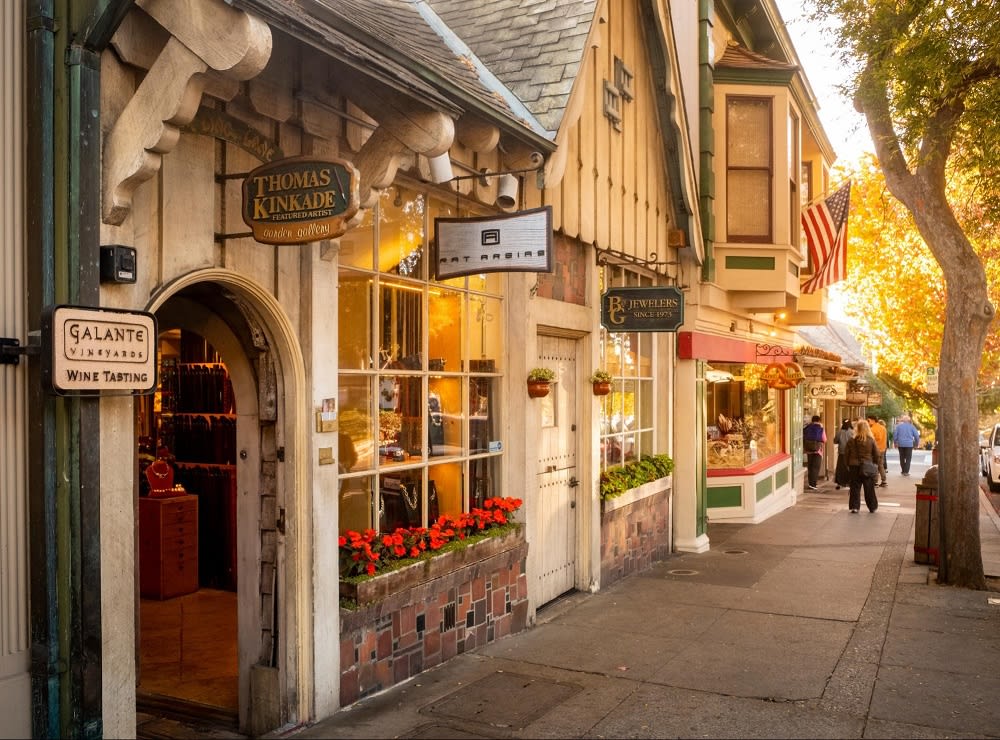 Carmel is a quaint, charming community full of artists and laid-back residents. One of the best ways to explore downtown Carmel is to grab a free map you can find around the area and start walking. Ocean Avenue is full of eclectic boutiques, restaurants, and small shops selling art or collectibles. Stroll the streets past picturesque bungalow homes and gardens, pop into one of the many fine art and sculpture galleries, or enjoy a meal at a sidewalk cafe and do some people-watching. Along Ocean Avenue, you'll find a range of high-end shopping opportunities. Carmel Plaza, located at Ocean Avenue and Mission Street, has plenty of luxury brands for a little retail therapy, such as Tiffany & Co., Cole Haan, and Kate Spade.
If you prefer curated tours, you can take your pick of several guided tour providers. For a nominal fee,
California Legacy Tours
offers an engaging two-hour guided walking tour of interesting Carmel sights and landmarks. The tour guide, author, and historian, Monica Hudson, takes visitors through Carmel, masterfully highlighting its fairytale cottages and modernist architecture while weaving a storied tapestry of Carmel's unique history.
Carmel Mission Basilica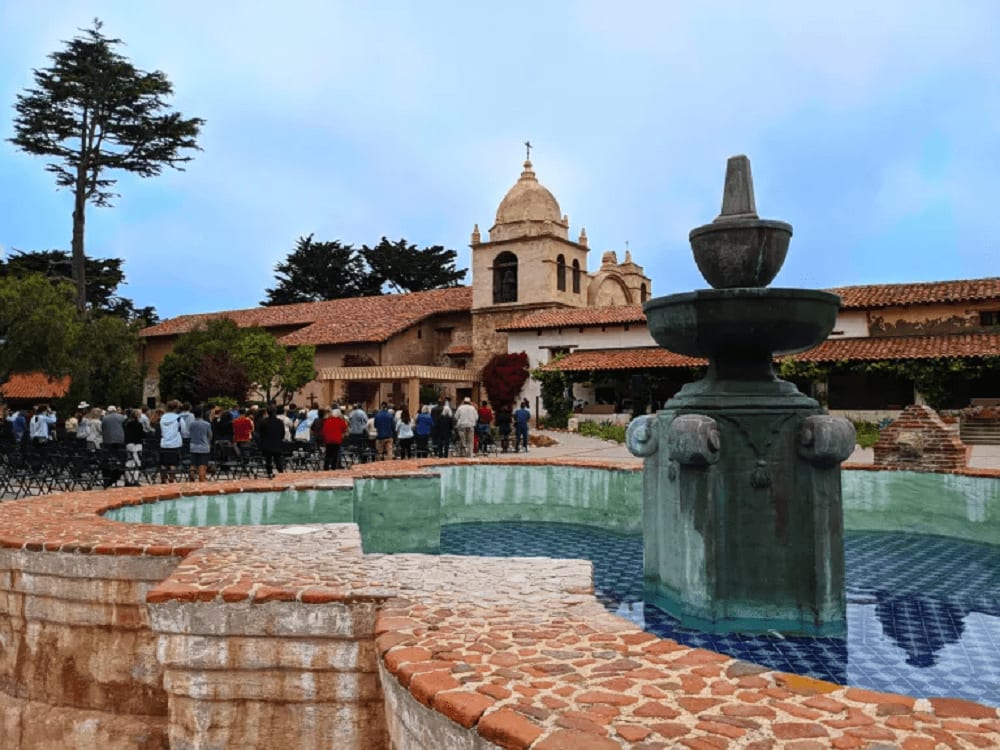 This iconic and historic Spanish mission adds to the notable landmarks you can find here. Today, Carmel Mission Basilica is an active Catholic Parish, museum, and school. It is listed on the National Register of Historic places while also having the distinction of being a National State Historic Landmark. As the second of the Alta California Spanish Missions, it was originally founded in 1770 on the shores of Monterey before being moved to its current location in 1771. Then known as Misión de San Carlos Borromeo de Rio Carmelo, the stone structure in which parishioners still worship today was built in 1797. Throughout the years, this "Father of the California Missions" has undergone several restoration projects and has been host to numerous presidents, kings, and world leaders.

There is a Mission Store where you can pick up the perfect gift or souvenir, including jewelry, specialty food products, books about the California Missions, and Carmel Mission-branded gifts.

You can also purchase a variety of religious items, such as Bibles, prayer cards, and one-of-a-kind rosaries. During the spring and summer months, access to the Carmel Mission Basilica could be limited. This is because it is an active parish, and these months are often booked in advance for weddings and special events. If you aren't Catholic, don't let this deter you from visiting. The grounds are beautiful, and the church itself is an architectural delight. You'll find Mission-era art and artifacts as well as Mission Forecourt, a peaceful garden located towards the entrance of the Basilica.


*Header photo courtesy of Unsplash