Natural beauty, eclectic art, and historical relevance set to the pallet of a magnificent lifestyle

Coastal California is one of the few magical places in the country where a journey from one town to another becomes a means of transport into an entirely different, beautiful world. Enter
Big Sur, California
, just south of the Monterey Peninsula. A land of majestic peaks and serene canyons, magnificent coastline and natural beauty, where rustic inns and world-renowned cuisine meet luxurious, eclectic living and a lifestyle both refined and artistic. Originally inhabited and shared by three Native American tribes, the region was given its namesake by Monterey, CA founder Gaspar de Portola in the 1700s—Big Sur is derived from the Spanish "el sur grande." Today, this 90-mile stretch of wonder along Highway One, between Carmel and San Simeon, has a cultural imprint that spans generations of influential figures—from Jack Kerouac, Orson Welles, and Henry Miller, to Rita Hayworth, Joni Mitchell, and the Red Hot Chilli Peppers, to name but a few.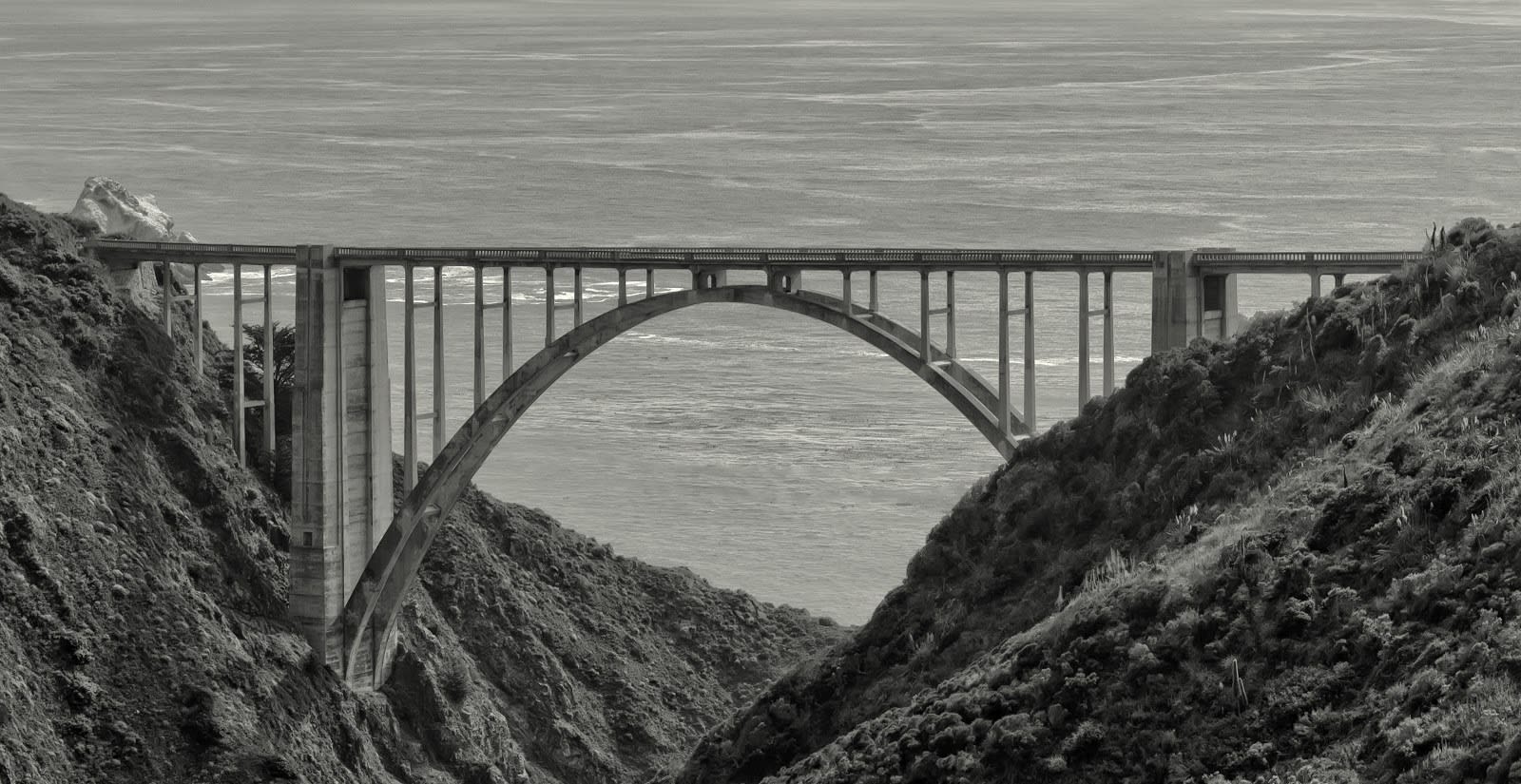 Big Sur is scenically located along the coast approximately 150 miles south of San Francisco and 300 miles north of Los Angeles. An insider's tip for anyone who has done, or will ever do, the drive between both cities—passing through Big Sur is why you don't take I-5, and why the extra couple of hours along Highway One is worth it. For those without a car, the
Amtrak Coast Starlight
is a relaxing way to get you to the area. Architecturally, Big Sur is one of the most sought-after and exclusive luxury real estate markets in California. Properties are rich with character and rustic charm, and a majority of larger estates come with iconic cliffs plunging into the deep blue ocean, delicately preserved land, and panoramic views that can leave one breathless.
What to Love
Abundant natural beauty where land meets sea
Sparsely populated and serene Eclectic, artistic, and welcoming community
Historical and cultural prestige
World class restaurants and destinations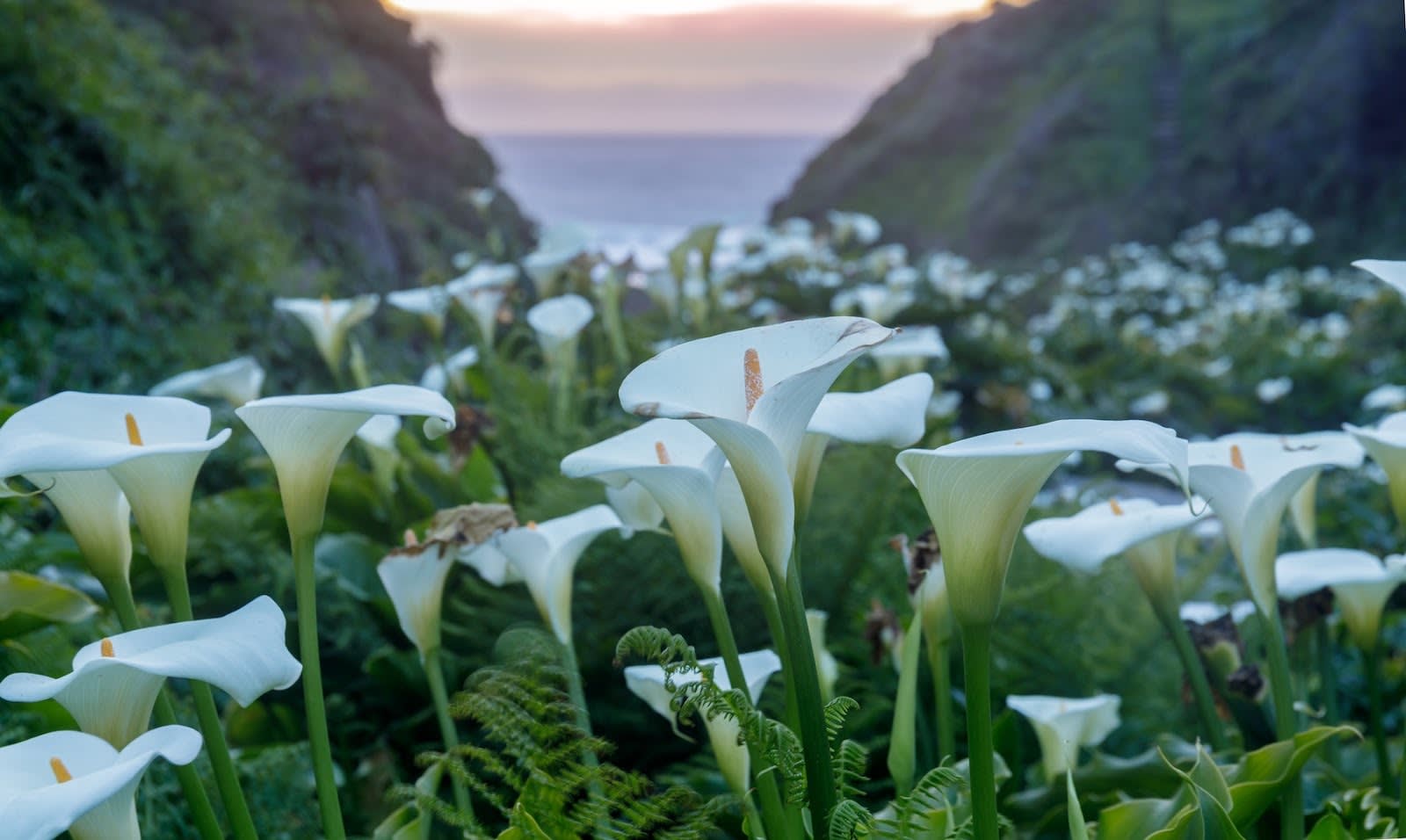 People & Lifestyle
Big Sur has a long history of being a haven for artists of all mediums seeking inspiration, enlightenment, and redemption, as well as wanderers of all types seeking refuge among the peace and quiet of the land. While an overall affluent community, Big Sur residents are some of the most open-minded, caring, and unassuming people you'll ever meet. Locals find humanity in everybody and beauty in everything, and it's this exceptionally unpretentious attitude that enhances the luxury of this holistically inclined and artistically opulent lifestyle.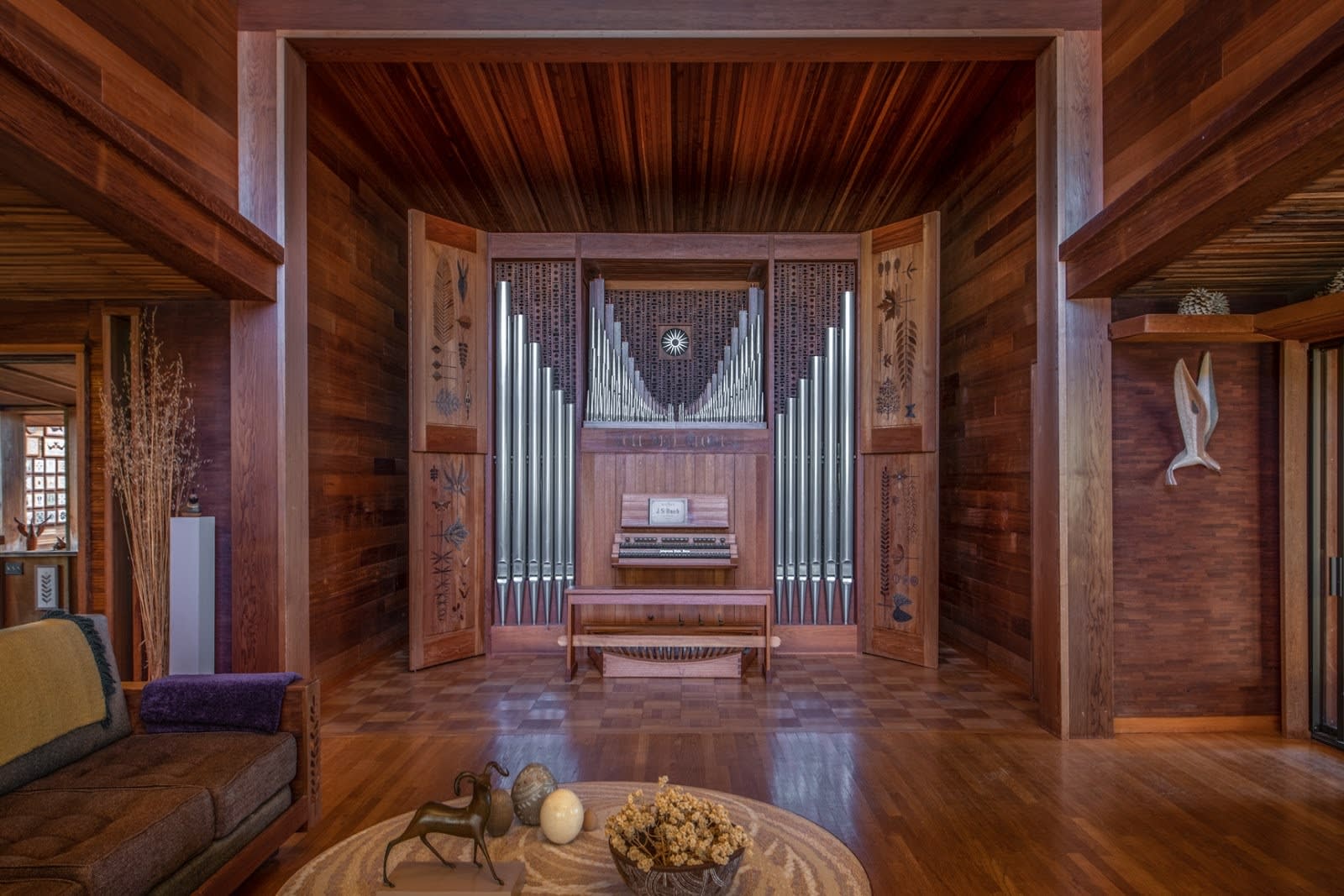 Living Room & Pipe Organ of World Famous Artist, Emile Norman
Offered at $2,000,000 | Emile Norman House
Dining, Entertainment & Shopping
Set upon a cliff overlooking the beautiful Pacific Ocean coastline,
Post Ranch Inn
is an upscale, ranch-style boutique hotel—think rustic-chic suites and treehouses with private decks and wood-burning fireplaces, indoor/outdoor spa pools, and a stellar restaurant offering ocean-view dining. It's an oasis within the oasis of Big Sur, as free amenities include loaner cars, yoga classes, meditation groups, and stargazing classes perfect for anyone looking to connect their mind/body/spirit to nature while on a romantic getaway or a relaxing retreat.
Big Sur Bakery
is where one goes to slow down and savor their senses over flavorful and creative American comfort food, wood-fired pizzas, fresh pastries, and desserts. With a rustic setting open seven days a week, the restaurant and bakery is quintessential Big Sur—with flavors, ingredients, and atmosphere that enhance the natural beauty surrounding the venue.
Nepenthe
has been serving up locally sourced, California-grown Greek Mediterranean/California fusion delicacies to the community since first opening its doors in 1949. With panoramic views of the Big Sur coast from an idyllic outdoor patio, the restaurant's namesake comes from the Greek word meaning 'isle of no sorrow'—it's virtually impossible to have any cares while sitting by the firepit on Nepenthe's aerial terrace and enjoying their soul-comforting cuisine.
Perched atop a cliff overlooking the ocean,
Sierra Mar
's floor-to-ceiling windows, outdoor patio, and awe-inspiring atmosphere are only outdone by the award-winning, world-class California cuisine found on their menu. Located at the Post Ranch Inn, Sierra Mar offers an exceptional and seasonal tasting menu, emboldened by an impeccable wine list and service to match.
Located on the edge of the redwood forest in Big Sur,
Deetjen's Inn
welcomes you to relax in cozy, rustic rooms. Enjoy fine dining in their quiet candlelit dining rooms. Established over 70 years ago, Deetjen's Big Sur Inn is equally historic and romantic.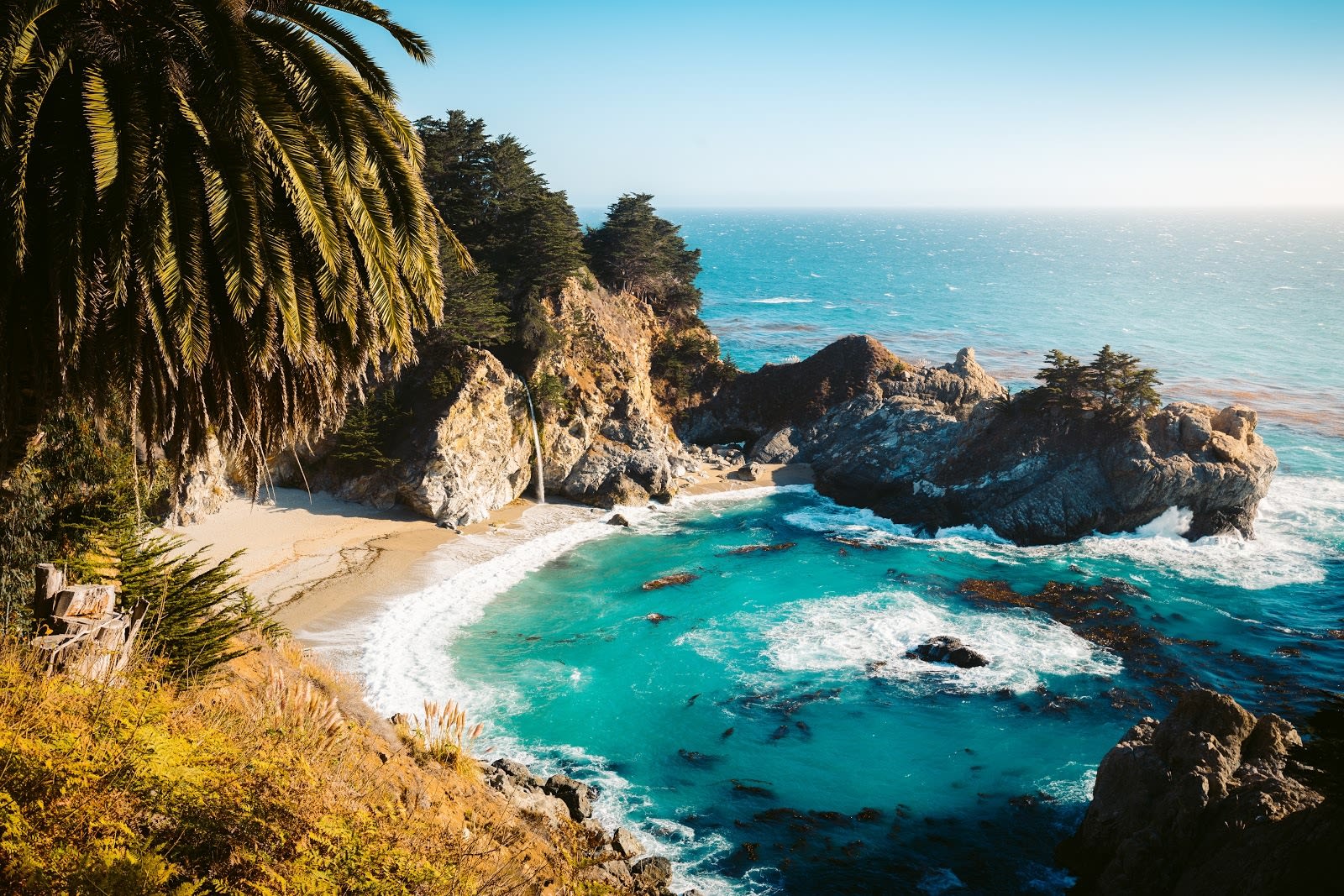 Julia Pfeiffer Burns State Park
Things to Do
Centrally located between two of the greatest wine regions in the country, Napa and Temecula, it isn't a surprise that the annual
Big Sur Food & Wine Festival
is one of the most anticipated events of its kind in the state each year. Highlighting California's best in world-class cuisine and viticulture, set against the backdrop of exquisite scenery only Big Sur can offer, the festival is an indulgence of the senses for visiting foodies, participating restaurateurs, and locals alike.
Julia Pfeiffer Burns State Park
, named in honor of one of Big Sur's most beloved pioneers, is the number one destination spot in the area for locals and tourists to visit. A veritable feast for the senses with lush trails, hidden coves, spectacular waterfalls, and miles and miles of redwood forest, a trip to the park is akin to stepping through the wardrobe and wandering into Narnia. It's one of the few places in the area that permits scuba diving and is a sublime spot in which to spot whales as they migrate to warmer waters during the winter months.
Big Sur is a place where one can explore personal horizons and pioneer deep change within from ancient grounds steeped in discovery.
Esalen
serves as a focal point for many seeking more than just a spiritual retreat or an educational institute—it's a global network of seekers looking to forge new understandings of self and society, and to pioneer change from within. With 120-acres of majestic land kissed by mountain and sea, Esalen is a myriad of things to those who set foot on its sacred grounds—home to visitors and locals who work the land, institute for learning, pallet for artists, and retreat for mind, body, and soul explorers. Whether it's taking in the waters at a mineral spring, exploring identity through workshops, or writing a novel beneath a sea of stars, one thing is certain when visiting—you'll leave better for having gone.
The
Henry Miller Memorial Library
is the cultural heart and soul of Big Sur, created in honor of the famed American writer who called the area home. It's a place where locals cozy up with a cup of coffee and a good book during the chill of winter or partake in a calendar full of events held throughout the remaining seasons—including the highly regarded annual film festival, the Big Sur International Short Film Screening Series.
Schools