One of only five homes located on the legendary 18th hole of the famed Pebble Beach Golf Course.

This classic French Country, single level, 6-bedroom home has been carefully updated and freshened to bring the original architecture into the 21st century. The ocean, Stillwater Cove and Carmel Bay views are spectacular and grounds exquisite. Get lost in the gardens, spend time lounging by the pool or get caught up in the excitement of the AT&T Pro-Am in your front row center seat. Located on a private, beautifully landscaped 1.6-acre parcel with over 260 feet of frontage, this understated and elegant property is just steps from the Lodge and Stillwater Cove.


Six bedrooms. Five king beds. One day bed. Sleeps 10. All bedrooms have baths.
Managed by: [email protected]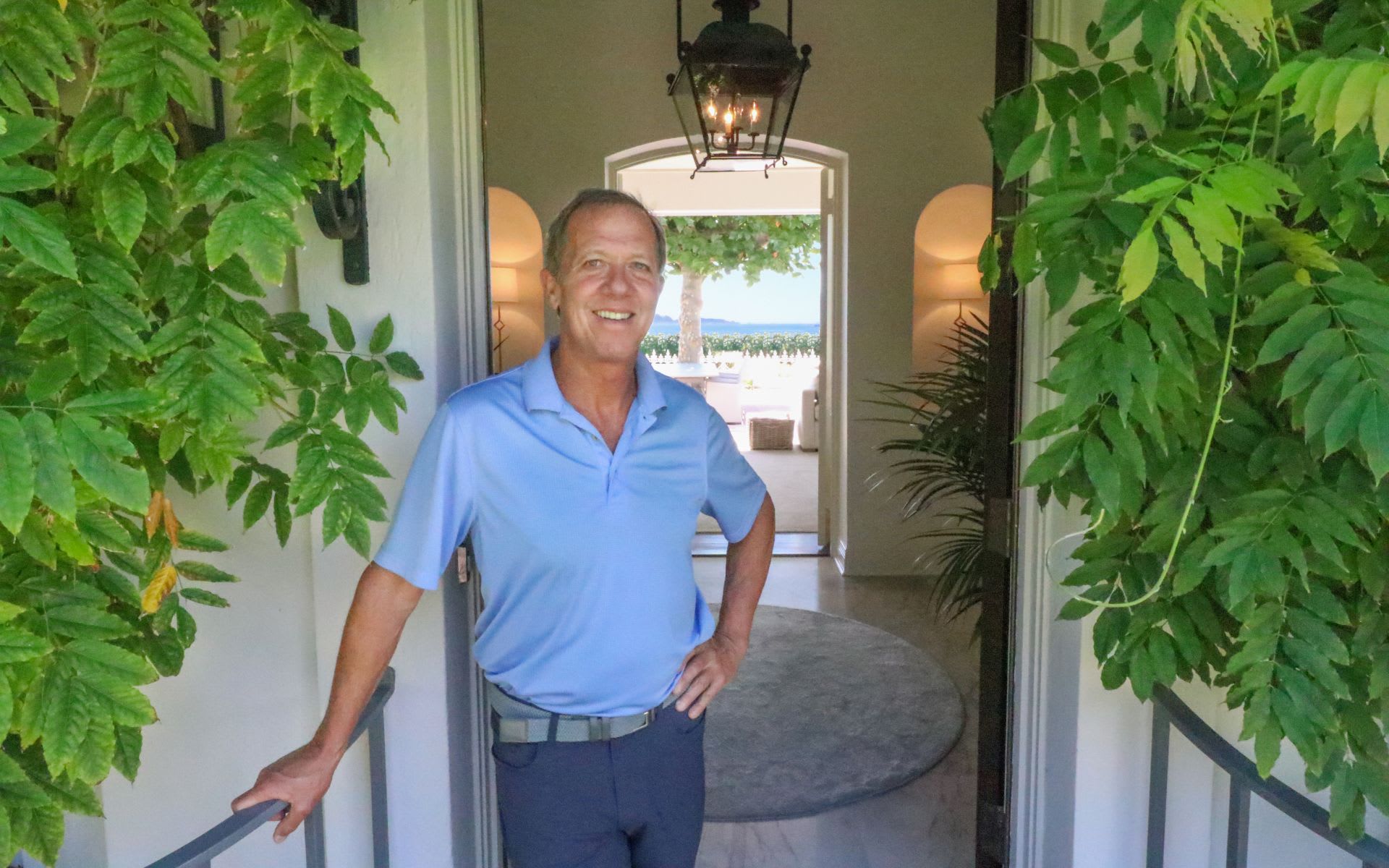 After Tim's purchase of the property, he spoke of the home's history and restoration process:

"We are off to a good start of our new adventure completing the renovation of the iconic Di Grazia home on the 18th of Pebble and feel fortunate to have had the opportunity to work on this local treasure, which has been an interesting piece of Pebble Beach history since it was first built in 1937.

It takes a skilled and dedicated team to take on a project like this and with help from Bonnie Archer and Marc and Roger Jolley we were able to preserve the best of the past while bringing the property into the 21st century. It's interesting to note that Roger pointed out to me that our new home on Padre Lane was the 17th project we had worked on together just as we were making a deal with the DeGrazia boys. Roger wasn't aware of our plans at this point so I paused and said back to him "Rog I have our 18th lined up". Our nickname for the Di Grazia home is 18.

The Di Grazia property is French Eclectic style and was the first home SFB Morris allowed in Pebble Beach that was not Mediterranean. Originally built for William H Burnam by Architects Malcome Cameron and Howard Tope from Los Angeles, home is relatively simple in design and oriented to take advantage of the spectacular Carmel Bay and golf course views. The gardens are exquisite with expansive lawns, boxwood hedges, walkways, roses and rare plants and trees which we were able to restore and replant preserving the original character along with a water bill that would drown most folks.

The property was purchased by Lori and Patricia Di Grazia in 1973 and they made wonderful contributions to the property including a tasteful expansion of the house, a private and sunny pool complex complete with solar heating, an update of the grounds with water retention system and even an aviary which today is a sunny family room with a wonderful view. Patricia was a superb painter and completed many of her works on the property while Lori was a successful businessman which among other ventures partnered with Arnold Palmer in the Tequila business.

The house is rich in history, it has stood the test of time and been witness to all the iconic and historic moments of the US Open and Crosby golf tournaments and hosted many an interesting character including Clint Eastwood, Bing Crosby, Phil Harris, Jack Nicklaus, Tim Allen and even Dwight Eisenhower who had the flagpole erected after a brief stay on the property….at least that's what an old caddie shared with me.

Lynn and I feel fortunate to have the opportunity to be the caretakers for this local treasure and hope we will be a small part of its history. It's one of only five homes on the 18th hole and three of them have already been replaced. We plan to keep the property in the family for generations and preserve and perpetuate its legacy while building memories and sharing it with others."