Tucked away at the top of picturesque granite cliffs,
Carmel Highlands
is a truly one-of-a-kind community. Life in Carmel Highlands is defined by relaxation and the ever-present sound of the surf. Abundant natural beauty and unique local amenities make this luxury community a highly sought-after destination for many looking to enjoy laid-back living and access to the stunning Pacific Ocean. Located just 10 minutes south of Carmel and under an hour and a half from San Jose, Carmel Highlands offers the quintessential blend of privacy and access.
In recent years, many have set their sights on this beautiful community
looking to buy Carmel Highlands, California, real estate
to use as a luxurious vacation home. In this small, solitary community, visitors are finding the perfect getaway. Carmel Highlands is full of things to do, from hiking to fine dining. Next time you are in the area, be sure to add some of these stops to your itinerary.
Explore the Beaches
Carmel Highlands is known for its stunning ocean-side real estate. The community sits along an exquisite stretch of the Pacific Ocean, where visitors can get out on the water and see the area's stunning granite cliffs. Less populated than other communities along California's coast, Carmel Highlands provides the perfect destination for a relaxed beach getaway.
Hidden Beach
62 CA-1, Carmel, CA

Despite the name, Hidden Beach is one of the easier beaches to access in Point Lobos State Natural Reserve. While many sandy stretches in the park have to be hiked to, Hidden Beach is located just a short distance from the parking lot, making it a popular destination for those looking to spend time by the water. This small beach is great for swimming, paddle boarding, kayaking, and fishing.
Malpaso Creek Beach
112 Yankee Point Dr. Carmel, CA

Just four minutes by car to the south of Carmel Highlands is the peaceful seaside enclave Malpaso Creek Beach. This spot is not known by many tourists, making it one of the quietest beaches in the Carmel area. Because of its solitude, Malpaso Creek Beach is a beloved destination by Carmel Highlands locals. Stop by this pristine stretch of sand to enjoy peace and quiet.
Explore the Great Outdoors
Carmel Highlands is famous for its stunning natural spaces and sprawling preserves. Many come to this exquisite community to escape the stress of city living and reconnect with nature. Some of the best stretches of untouched woodlands in California can be found surrounding Carmel Highlands. Whether you are looking to take a hike, go bird watching, or experience picturesque scenery, the perfect trip is never far in Carmel Highlands.
Point Lobos State Natural Reserve
62 CA-1, Carmel, CA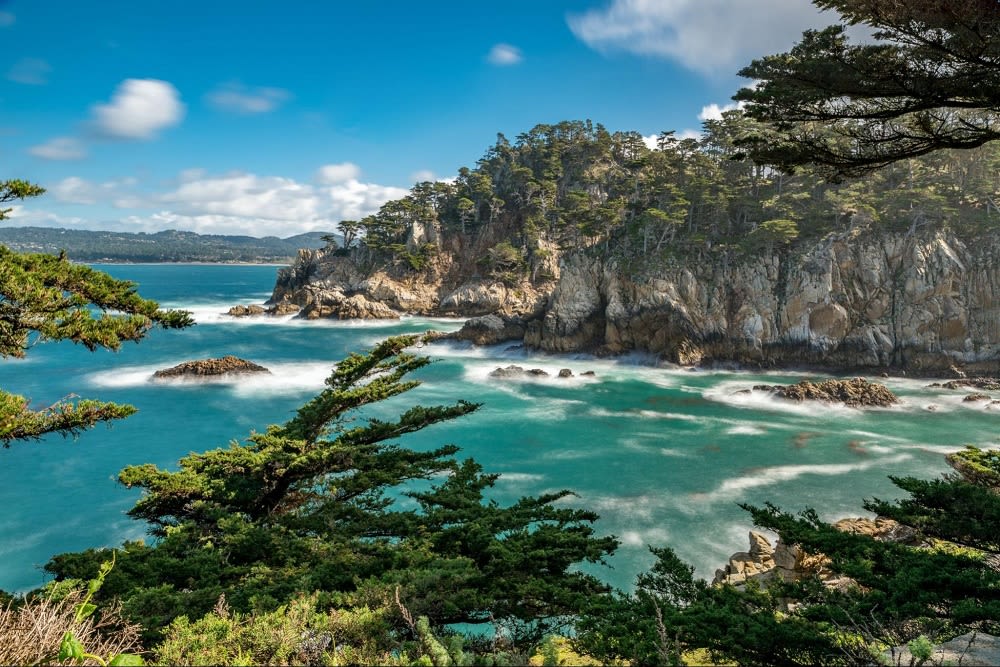 Many artists found their muse in Carmel Highlands, and when you take a walk around Point Lobos State Natural Reserve, it becomes apparent why. Considered one of the most beautiful coastlines in the country, visitors flock to the park from across California for sightseeing, photography, painting, and outdoor recreation. Miles of hiking trails and plentiful beaches allow for ample opportunities to get out in nature. Guests often come to Point Lobos for hiking, picnics, scuba diving, and swimming.
Garrapata State Park
34500 CA-1, Carmel-By-The-Sea, CA

Two miles of shoreline and abundant hiking can be found at Garrapata State Park. Often less trafficked than Point Lobos, Garrapata State Park offers a quiet excursion into the outdoors. Many come to the area to summit the 50-foot climb that offers stunning panoramic views of the Pacific Ocean from the top. Garrapata State Park is full of wildlife, with multiple sightings each year of sea lions, sea otters, harbor seals, and California gray whales.
Experience local shopping and dining
One of the best ways to experience the unique character of a region is to get out and enjoy the local shops and eateries that make the area special. With a rich history, Carmel Highlands boasts an eclectic selection of specialty shops and locally-owned restaurants you will not find anywhere else.
The Barnyard Shopping Village
3663 The Barnyard, Carmel-By-The-Sea, CA

The Barnyard Shopping Village is a quaint, local mall that is home to several luxury shops and restaurants. Filled with unique specialty shops ranging from international jewelers to world-class art galleries, fashion boutiques, and florists, there is something for everyone at The Barnyard Shopping Village.
Aubergine the restaurant at L'Auberge Carmel
7th Avenue & Monte Verde St, Carmel-By-The-Sea, CA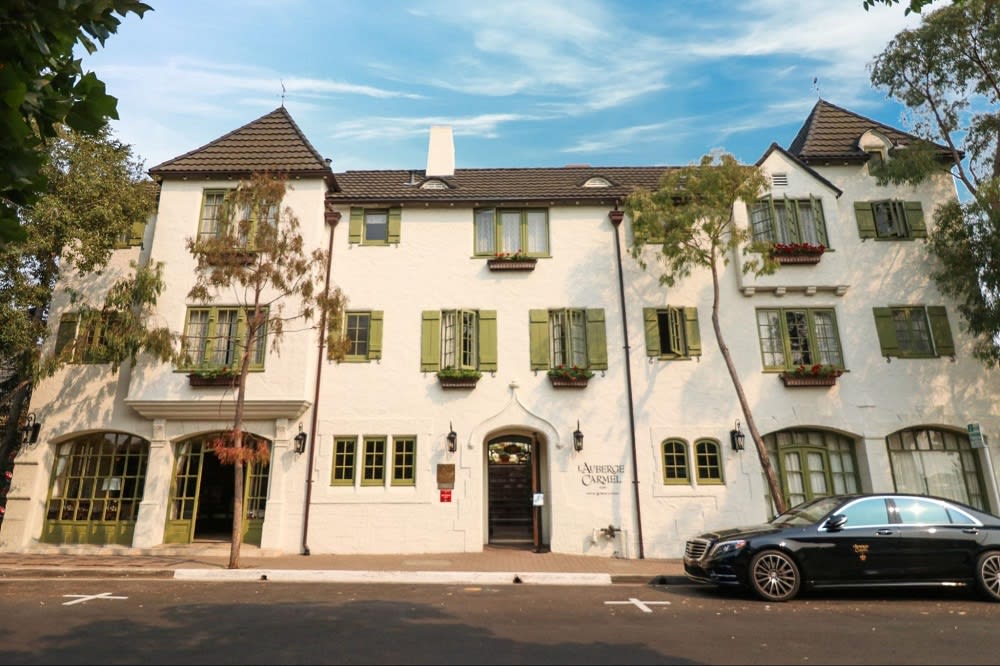 The Carmel Highlands area is home to several luxurious fine dining institutions for locals that are in the mood for a bite to eat. However, no other eatery in the area is raved about as much as Aubergine the restaurant at L'Auberge Carmel. This upscale eatery serves a masterful menu of innovative American fare accented by its plush dining room. Offering a robust wine list, every meal has its perfect pairing at Aubergine.
Check out a museum
The Carmel Highlands area is teeming with history. Throughout the early history of the land, many prominent figures settled in the area, including Jack London and George Sterling. Artists, writers, and actors flocked to the region and lived alongside industrial fishing operations. Today, the rich history of the area lives on in several local museums.
Whalers Cabin Museum
62 CA 1, Carmel-by-the-Sea, CA

Located in the Point Lobos State Natural Reserve, Whalers Cabin Museum is preserving the history of the fishermen in Carmel. Built back in the 1850s by local fishermen, the cabin still stands today and functions as a small history museum. Inside, guests can see maritime artifacts from the area and get a glimpse into what life was like for early fishermen.
Monterey History & Art at Stanton Center
5 Custom House Plaza, Monterey, CA

A short drive into Monterey brings locals to the historic center of the Carmel region. There resides the Monterey History and Art at Stanton Center. This museum features a wide selection of art and maritime artifacts. Guests can learn more about the history of the region or view art pieces made in California over the last two centuries.
Look at homes for sale with the help of a local realtor
With stunning natural beauty, unmatched serenity, and an eclectic selection of local treasures, it comes as no surprise that many visitors of Carmel Highlands choose to stay. Today, Carmel Highlands real estate is a sought-after commodity for those looking to buy a luxury residence or vacation home.