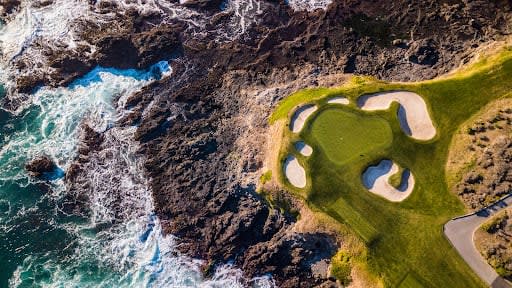 The AT&T Pebble Beach Pro-AM is quickly approaching. Patrons and television viewers will watch 156 of golf's best players team up with 156 celebrities between Thursday, February 2nd and Sunday, February 5th. Whether you're planning to attend the tournament in-person or are wondering about where you can tune in to watch, you'll find all of the most important information about the AT&T Pebble Beach Pro-AM in the sections below.
History
The tournament began in 1937, when Bing Crosby hosted the first Pro-Am tournament in Rancho Santa Fe, California. The tournament moved to Pebble Beach in 1947, when Ed Furgol tied with Goerge Fazio. This came after the tournament was suspended following the 1941 event because of World War II. Things resumed in 1946 after Ted Durein and Dan Searle asked Crosby about the possibility of reviving the tournament.. Past professional winners include Tiger Woods (2000), Phil Mickelson (2007), and Dustin Johnson (2009-2010).
Schedule of events
The tournament begins on Thursday, February 2nd. Players will tee off on three different courses beginning at 8:30am PST. The schedule will remain the same on Friday and Saturday. On Sunday, tee times begin at 7:30am at Pebble Beach. NBC's Golf Channel will televise the event between 12pm and 3pm on Thursday and Friday, and from 10am until 12pm on Saturday and Sunday. You can also find coverage on CBS from 12pm to 4pm on Saturday and 12pm to 3:30pm on Sunday.
PGA players
A number of PGA golfers will participate in the Pro-Am event this weekend. Tom Hoge is looking to become the first defending champion since Dustin Johnson to repeat. He'll have his work cut out for him as he matches up against past major winners such as Jordan Speith and Justin Rose.
Spieth is currently the favorite with 9-to-1
odds of winning, while Viktor Hovland and Matt Fitzpatrick tied for the second-best odds at 10-to-1.
Celebrities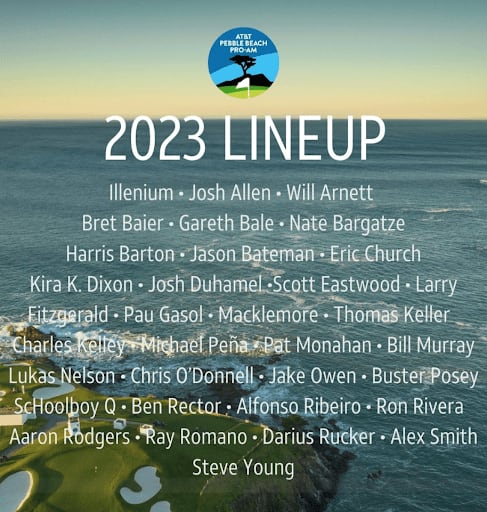 The star-studded list of celebrities
who will be participating in the 2023
AT&T Pebble Beach Pro-AM
is astounding. As you look down the list, you'll quickly notice that many of these participants know a thing or two about winning big in the sports world. Super Bowl winning quarterbacks like Steve Young and Aaron Rodgers will swing the sticks, along with longtime NFL head coach Ron Rivera, who won a ring while playing with the Chicago Bears in the 1980s. Josh Allen, Larry Fitzgerald, and Alex Smith will also participate in the tournament. Two-time NBA champion Pau Gasol is a member of the celebrity field, as is three-time World Series Champion Buster Posey.
A number of celebrities from outside the sports world plan to play in the tournament as well. Fans will see award-winning actors like Jason Bateman and Will Arnett on the course. Ray Romano, Josh Duhamel, and Bill Murray are scheduled to participate as well. Musicians such as Eric Church, Jake Owen, Macklemore, and Charles Kelly round out the list of stars who will shine brightly this weekend on the links.
Courses

The 2023
AT&T Pebble Beach Pro-AM
will take place at three of Monterey's most picturesque golf courses. Most golf fans are well-acquainted with
Pebble Beach Golf Links
. The course, which recently celebrated its 100th anniversary, has been thrilling golfers and spectators since 1919. The course runs along the rugged coastline and includes many wide-open ocean views and cliffside fairways.
Players will also tee off at
Spyglass Hill Golf Course
, which is widely considered one of the toughest courses in the world. PGA players regard holes 6, 8, and 16 at Spyglass among the most difficult holes on the entire tour. With a course rating of 75.5 and a slope of 144, Spyglass is sure to fully test each players' capabilities.
Monterey Peninsula Country Club Shore Course
is the third and final course on the list. The 6,867-yard par-71 course underwent a full redesign in 2003 led by Mike Stranz. Stranz minimized cart paths to help the course better blend in with its natural surroundings, and he worked hard to develop a course that would maximize ocean views and the use of natural rock in the design.
Format
Each PGA player will be matched with an amateur during the first three days of play. Pairs will alternate between each of the three courses during the first three days of the tournament. The field will be cut down to the top sixty players (including ties) for Sunday's final round at Pebble Peach. As play continues, two different tournaments will happen. PGA players are playing for a title of their own in addition to participating in the Pro-Am. To determine the winner of the Pro-Am portion, scores will be calculated based on how the professional and amateur from each pairing fares on each hole. Amateurs can use their handicap to determine their score. The top 20 teams will compete on Sunday at Pebble Beach. You can follow the amateur leaderboard and the professional leaderboard throughout play this weekend.
Prizes and proceeds
The professional purse is $9 million, with $1.62 million going to the first place winner. Money is also being raised to support various profits in Monterey, Santa Cruz, and San Benito counties. Last year, the Monterey Peninsula Foundation raised $14.5 million to donate to various nonprofits in the area.
Contact premier Carmel and Pebble Beach real estate agent Tim Allen if you're looking for someone to help you shop for luxury homes in Pebble Beach and surrounding areas. Tim consistently ranks as one of the top-performing agents in the entire country, and his area knowledge and connections are second to none. Reach out to Tim if you have questions about the housing market in the area or if he can do anything to help you with your upcoming real estate transaction.