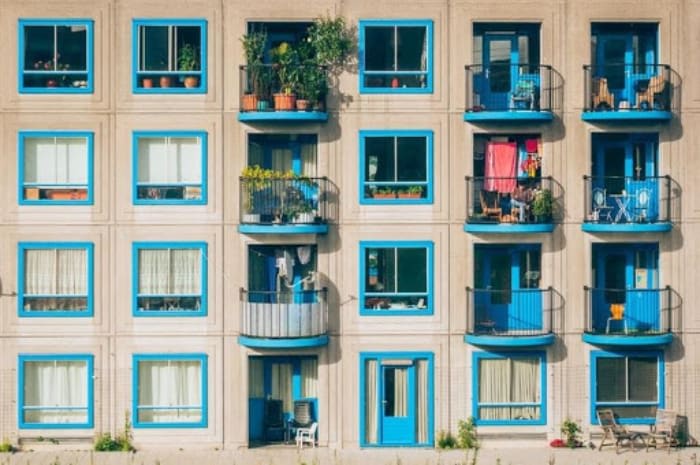 Whether it's a rooftop terrace or an apartment balcony, these unique
outdoor spaces
offer lots of wonderful advantages to enjoy. Not only can you take in the beautiful views and fresh air by being outside, but these compact outdoor areas provide you with the perfect place to relax, too. If you're not sure how to make the most of this special part of your home, there are a few things you can do to transform your terrace or balcony into a beautiful oasis where you can entertain family and friends and relax outdoors. This guide provides easy tips for a complete terrace or balcony transformation.
Great ways to enjoy your terrace or balcony.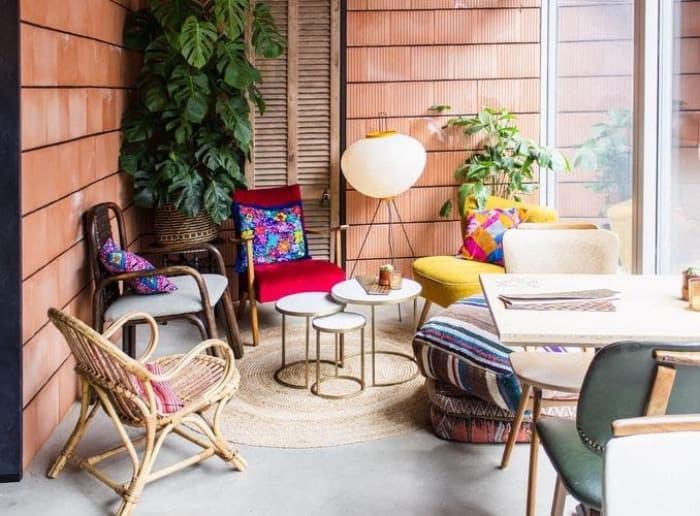 You can spend time on your terrace or balcony in whatever way best suits your lifestyle. While size is often a factor in determining what you can do on your terrace or balcony, it's easy to utilize this part of your home with some quick tweaks.
Exercise and meditation.
Enjoy a bit of morning meditation or a
yoga session
out on your balcony or terrace. Bring a yoga mat and a small Bluetooth speaker outside so you can listen to your yoga instructor or take part in some
stress-reducing meditation
. It's a great way to start your day, get some fresh air, and reset for whatever lies ahead.
BBQ. Even if you don't have a patio or backyard, you can enjoy cooking on the grill on your balcony. Make sure that you're allowed to use a grill in your outdoor space, as some condos and apartments prohibit it due to safety reasons. A rooftop terrace is a perfect place for grilling and barbecuing. Choose a small electric BBQ grill if you're worried about a fire, and don't forget to include all of the cooking accessories you need for a delicious meal.
Reading and relaxation spot. Your balcony is an ideal place to enjoy a great book or simply relax. Add a nice outdoor area rug and a comfy loveseat so you have a comfy place to relax and take in your favorite reads. If your terrace or balcony is extremely small, try a cute outdoor ottoman or pouf for seating in your new outdoor reading spot.
Set space aside for your pet.
If you have a pet, they'll probably want to enjoy your balcony, too. When letting
pets outside
, make sure that they're blocked off from the edge to prevent an accidental fall. A sturdy pet gate is a good option, or you can make sure that they're only allowed out there when on a leash or harness.
Plant Paradise.
A balcony or terrace is a perfect spot to grow some
beautiful plants
. Determine what type of sun you get (full, partial), then plant a few herbs and spices that will thrive. You'll love having access to fresh veggies and herbs right from the comfort of your own home. Add some beautiful flowers or houseplants to this space for even more beauty. It's a great way to nurture your green thumb.
Workstation. If you work from home, consider moving your office out to the balcony on nice days. Bring a small desk and chair outside, and work while enjoying the fresh air and sunshine. Just make sure that your computer monitor is shaded from direct sunlight to avoid glare.
Transform your outdoor space from top to bottom with décor.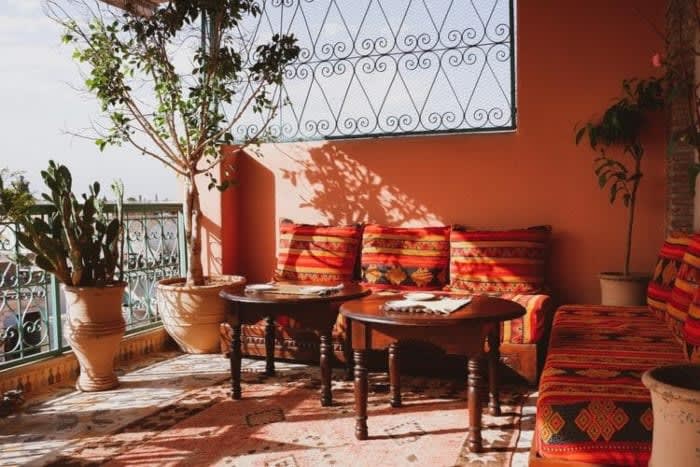 If you really want to give your balcony or terrace a makeover, add a few key décor items to help make the transformation easy. Here are some tips and suggestions that will inspire you to create your own beautiful outdoor relaxation space.
Proportion and size. Take measurements of your balcony or terrace so you know how much room you have for items like furniture and outdoor décor. The size of the furniture you choose is important since you want it to fit nicely without taking up all of the floor space. Look for compact outdoor furniture, like a charming bistro set or a small dining table with chairs that can be tucked underneath.
Layers. Give your balcony a beautiful update by layering lots of textures and colors. Mix and match different fabrics and patterns on outdoor pillows and cushions. A woven jute area rug is a great way to give this space lots of natural texture and tie in the decor. You can even hang outdoor curtains along the open part of your balcony for additional privacy and ethereal, relaxing touch. The key is to layer as many textures and fabrics as possible to give your balcony a nice vibe.
Wall décor.
Have some fun
decorating your balcony
with a few pieces of outdoor décor. Look for weather-resistant wall sculptures and artwork to give the balcony a personal touch. An outdoor clock or thermometer is another excellent decorative addition to a terrace or balcony area — and they're useful, too.
Color palette. Try to keep the color palette light, especially if your terrace or balcony is small or it gets a lot of direct sunlight. Light hues and neutral colors will naturally make smaller spaces feel larger than they are, and they won't heat up as much. Choose softer pastel tones like a leafy-green, or incorporate some natural, neutral tones like a cool gray or warm tan. You can always add pops of brighter, bolder color with your outdoor furniture, rugs, and pillows.
Lighting. Brighten up your balcony with some fun lighting. A set of string lights will make your balcony look and feel festive without being too bright. Solar lights are a good choice since they won't require you to plug them in every time you want to use them. A cute outdoor lantern with a battery-operated candle is another stylish source of light. Avoid using real candles on a balcony, since they can present a fire hazard.
Greenery.
Create a beautiful outdoor garden on your balcony or terrace with some greenery and potted plants. Choose plants that are easy to care for, enjoy lots of light, and that doesn't require a lot of fuss to stay happy and healthy. A
small herb garden
is a fun choice, or you can simply add a few planters featuring some of your favorite plant species that will thrive outdoors. If you can't grow anything for lack of sunshine or due to having a brown thumb, choose some fake plants, which often look as real as the real deal.
Furniture. When choosing outdoor furniture for your balcony, make sure that it's comfortable, but not too big that it takes up the entire space. Multifunctional furniture like a storage ottoman will give you a place to store extra items while providing comfortable seating. Choose weatherproof furniture that can withstand direct sunlight, rain, snow, and other elements. If you only spend time on the balcony during the spring and summer, consider using furniture that you can enjoy indoors during the colder months of the year.
Things to consider for comfort and safety.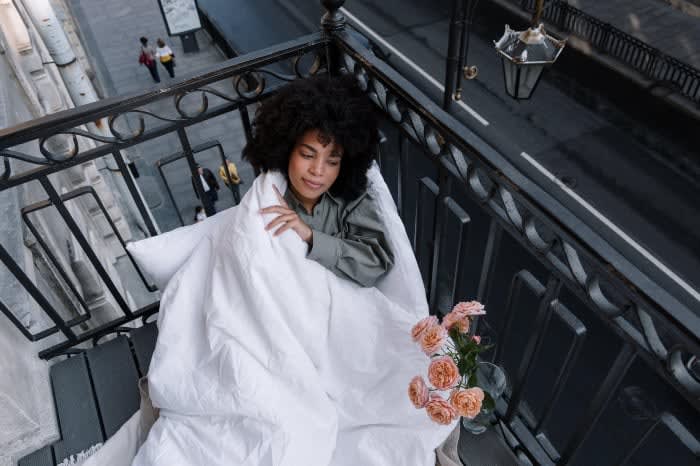 Once you decide how you'll use your balcony or terrace and you're ready to make some changes, there are some important things to take into consideration. Use these tips to ensure that you'll be able to enjoy your relaxation space safely and comfortably all year round.
Weather. Even if it's cold outside, you can still enjoy your balcony by adding a small patio heater or firepit. But before you invest, make sure that you're allowed to use these items, and never leave them unattended, since they could be a fire hazard. When it's hot, a ventilation fan or a freestanding fan with an oscillating head will help to circulate the air and keep you and your guests cool and comfortable. Add an awning or a patio umbrella for extra shade, if necessary. Look for durable covers you can place over your outdoor furniture to protect it during inclement weather or whenever it's not in use.
Safety.
Since most terraces and balconies are several stories high, it's crucial to make sure that your
outdoor space is safe
for yourself, pets, and guests. Consider installing a sturdy railing across the front and sides of your balcony if you don't have one already. Railings help to avoid accidents, and they're especially important if you have young children or curious pets. For those with a rooftop terrace or balcony, confirm that there is safe access. A durable set of stairs with an attached railing is recommended. If you're renting your home or apartment and you have concerns, talk with your landlord or property manager. They should make sure that everything is safe and up to code.
Whether you rent or own your home, having a terrace or balcony is a fabulous way to enjoy some time outdoors and entertain guests all year round. With the right décor, lighting, and furniture, it's easy to create a beautiful small space that you'll love. A well-designed balcony or terrace can boost your curb appeal and increase the value of your home, too. So make your plans, and get to work transforming your balcony and relaxing in your new bonus space.