Spring is the perfect time to get outside and explore the great outdoors. Thankfully, the Monterey Peninsula is jam-packed with plenty of opportunities to do just that. Nestled by the water, Carmel, Carmel Valley, Pebble Beach, Pacific Grove, Monterey, and Big Sur are known for their luscious green mountains, blossoming flowers, rocky cliff sides, "Purple Carpet", and inspiring beaches, resulting in plenty of options for hikes, ocean fun, and recreational activities.

Read on to learn about 12 ways to get outside in Monterey County this spring.
1. Carmel River State Beach

There are few things more relaxing or rejuvenating than spending time by the water. Whether you're going for a swim or enjoying a picnic, consider going to Carmel River State Beach. This state park, spread over nearly 300 acres, features a one-mile-long protected beach with a lagoon carefully formed by the Carmel River. This is also a great spot to go bird watching, as the lagoon attracts many migratory birds. Birds that frequent this area include the Great Blue Heron, the Virginia Rail, the Brown Pelican, the Greater Yellowlegs, and the many types of gulls, egrets, and terns. In addition to birders, this is also a popular spot for divers and kayakers.
2. Carmel Beach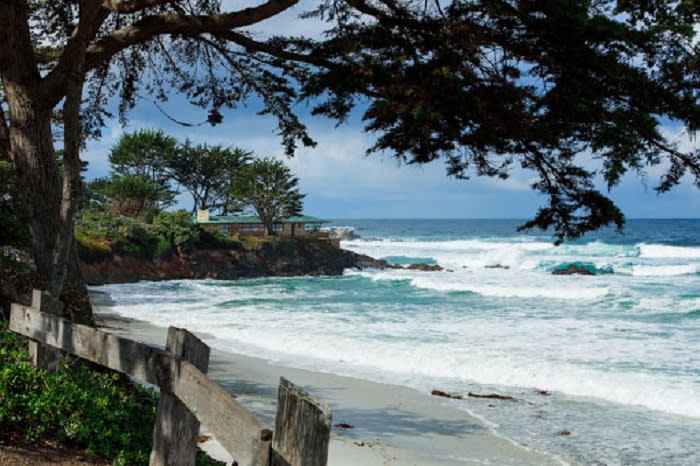 Considered "One of America's Top Beach Towns," it's only fitting that Carmel-by-the-Sea is brimming with beachfront oases. Carmel Beach is a local gem and one of California's most legendary beachfront areas. You'll find this crescent-shaped sandy white beach at the foot of Ocean Avenue as it gives way to turquoise water, resulting in a storybook setting. Carmel Beach is a beloved location of local surfers for its crystalline waves, and the shores are perfect for sunbathing, sunset walks, and wading in the seafoam. This picturesque beach also offers the Scenic Bluff Path, a manicured gravel pathway lined with Monterey cypress trees that provide a shady solace from the midday sun. The pathway runs parallel to Scenic Road and boasts eight staircases that grant access to the beach below. From here, you can walk along the coastline from Pebble Beach to Point Lobos.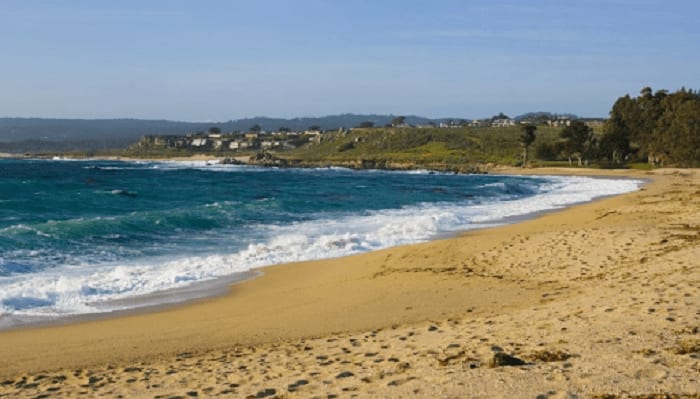 Credit: California Beaches
3. Surfing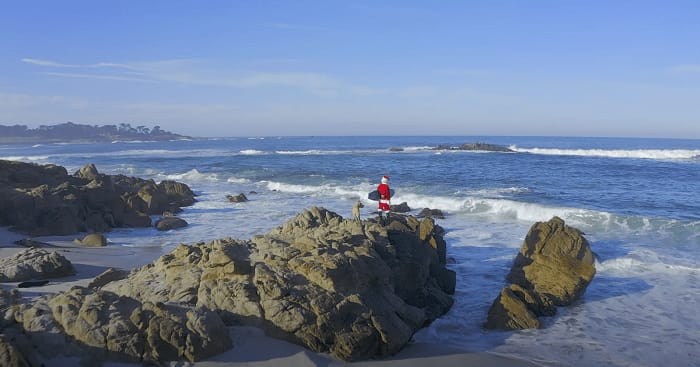 If you're feeling a bit adventurous, why not try your hand at surfing? Surfing has a myriad of health benefits, including increased cardiovascular fitness, back and shoulder strength, and leg and core strength. A local surfing spot at the bottom of 11th Street in Carmel is usually hopping with surfers. This is a great spot to spend some time surfing, but please be sure to follow proper surf etiquette! If you're new to the game and need a bit more instruction, Carmel is home to several surfing schools. South Bay Surfriders, Carmel Surf Lessons, and Monterey Bay Surf Lessons are a few places to look into. Regardless of your level of experience, these expert instructors will get you surfing like a pro in no time!
4. Point Lobos Natural Reserve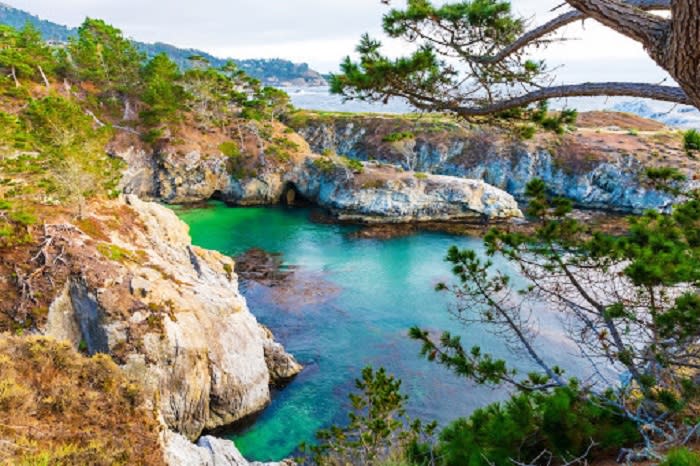 Located within a short distance from Carmel, Point Lobos Natural Reserve is a spot you don't want to miss. Point Lobos is considered the crown jewel of California's 280 state parks, and it's easy to understand why. Here you can take in spectacular coastal views or take advantage of hiking on one of the multiple trails here.

China Cove is another spot worth checking out, with its emerald waters surrounded by rocky walls. To get here, drive to the end of the park road, where you will find parking for Bird Island Trail. Here you can see China Cove from this trail, along with seals, depending on the day. There's also a lot of wildlife here, so consider bringing a pair of binoculars along. With so much to offer, Point Lobos attracts nature lovers from all around the world.
5. Cypress Grove Trail
Point Lobos Natural Reserve is home to a number of notable hikes, including Cypress Grove Trail. This .8-mile trail features a nice trail, rock steps, views of the Pacific Ocean, and, as the trail's name implies, beautiful cypress trees. Both residents and visitors come here for hiking, walking, nature trips, and bird watching. During the spring and summer, this area is populated with beautiful, colorful wildflowers.
6. Gibson Beach
After hiking your heart out at Point Lobos, consider heading down to Gibson Beach for some rest and relaxation. Gibson Beach is the southernmost located beach in Point Lobos and is accessed from Bird Island Trail. Perhaps what is most incredible about this beach is the contrast of the pristine white sand next to the dark blue waters. Be prepared to have your breath taken away!
7. Carmel Meadows Trailhead
If you're looking for a short and sweet hike, then we've got one in mind just for you. Carmel Meadows Trail, located in Carmel River State Beach, is a .6-mile trail that caters to all skill sets. The trail is mainly used for hiking and walking and offers plenty of chances to see wildlife. To make it even better, you can even bring your four-legged furry friends along, as long as they remain on a leash! Whether you want to connect with nature, soak up the sunshine, or get in some exercise, this easy trail is worth exploring.
8. 17-Mile Drive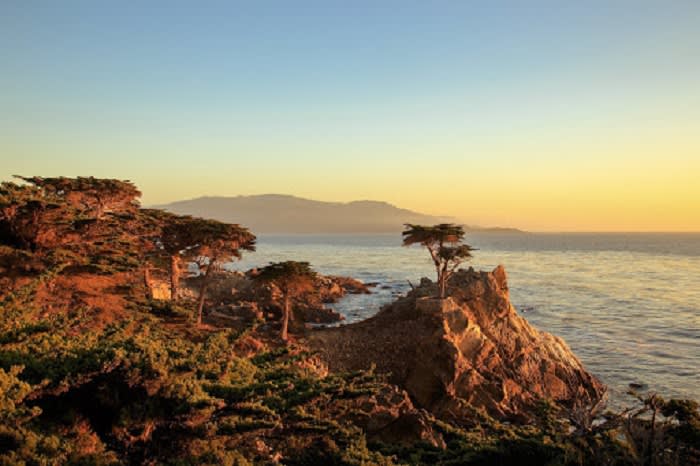 Although Pebble Beach's acclaimed 17-Mile Drive can be enjoyed in the comfort of your car, why not take the chance to get some fresh air outside? During this 17-mile drive, you'll have plenty of markers (17 to be precise) where you can stop, stretch your legs outside, and take in the scenic views. These stops include sandy beaches, rocky cliff overviews, and perhaps even some harbor seals and sea lions.

One of the first stops on the drive is Spanish Bay Beach, where Spanish explorers camped in 1769, mistaking it for Monterey Bay. A few stops later, you'll encounter The Restless Sea — one of the most turbulent sections of the coastline. Later, be sure to stop at Bird Rock, which is usually buzzing with birds, harbor seals, and sea lions. Best of all, this scenic drive lands you right in Carmel, so you can easily grab some lunch or continue exploring the great outdoors!
9. Hatton Canyon
Hatton Canyon is a canyon nestled in Carmel Valley. It's composed of 10 acres of wetlands, hiking trails, and Monterey pines. Hatton Canyon also features a trail, which stretches over 3 miles. Good for all skill sets, this trail is primarily used for hiking, walking, jogging, or nature trips. Additionally, it features plenty of opportunities to see wildlife.
10. Julia Pfeiffer Burns State Park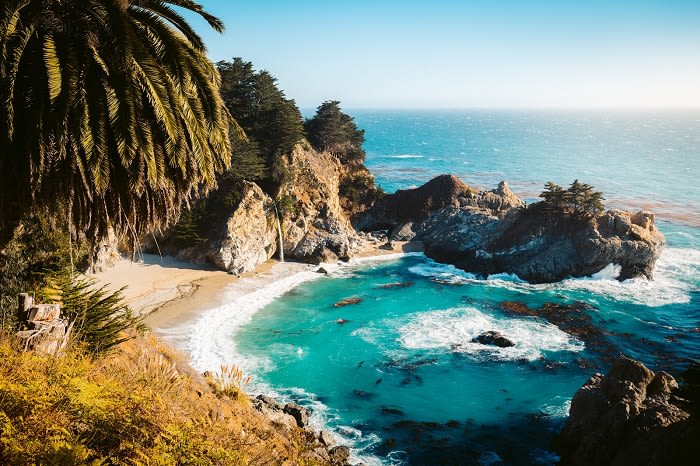 Get out of town for the afternoon and head down to Julia Pfeiffer Burns State Park! Named after a respected pioneer woman in the Big Sur country, this park is located 37 miles south of Carmel. The park stretches from the brilliant Big Sur coastline to the nearby 3,000-foot ridges. Perhaps one of the most well-known parts of this park is the picturesque waterfall. This 80-foot waterfall drops from granite cliffs into the ocean and provides a breathtaking overview on a clear day. Julia Pfeiffer Burns State Park also features redwood, tanoak, madrone, chaparral, and panoramic views of the ocean along rugged miles of coastline.
11. Garrapata State Park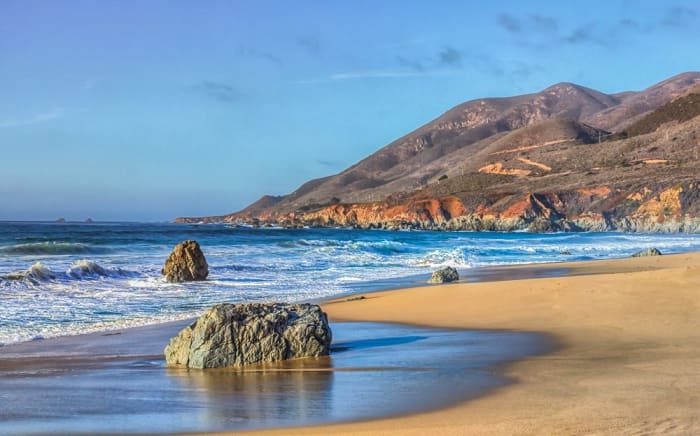 Credit: California Beaches
Garrapata State Park is located just south of Carmel Highlands and Point Lobos Natural Reserve. Easy to miss, this state park is an often-overlooked jewel in Big Sur. When you're driving here, be on the lookout for the Garrapata State Park sign, and then look for a large pullout located under cypress trees. You'll notice a dirt road and a tin barn behind it. This is the trailhead for the 1.25 mile Soberanes Canyon Trail. The hiking trails are rarely populated, providing a chance to have some of your own space. Here you will find redwood-filled canyons and some of the most breathtaking coastline views this area has to offer. Marvel at the impressive views, but be sure to watch your footing! Just a short drive from Carmel, Garrapata State Park is the perfect way to spend a sunny day in nature.
12. Mission Trails Park Loop
Spend the day enjoying the sunshine on Mission Trails Park Loop. This 33-acre nature preserve includes a Monterey pine forest, coast live oak woodland, wetland, and coastal prairie. Five miles of trails weave their way through pine and redwood trees, guaranteeing a serene and beautiful hike.

If you want more opportunities to dine at the bountiful array of restaurants in Carmel & Pebble Beach, you'll need a home in the neighborhood. To explore homes for sale in Carmel and Pebble Beach, contact Tim Allen today. With years of real estate experience, Tim can help guide you through the process of finding the perfect property.